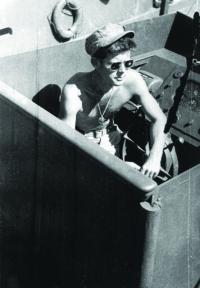 Lt. John F. Kennedy aboard PT-109.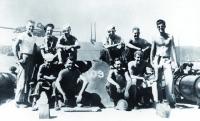 Crew and JFK, standing far right Andrew Jackson Kirkesy (one of two who did not survive the crash), to the right of 109.
Navy and Marine Corps Medal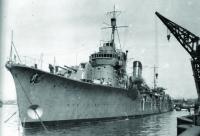 Japanese Destroyer Amagiri cerca 1930.
This week, 70 years ago, an important step along the path to the Presidency of the United States was taken. The first step had been taken with the birth of John Fitzgerald Kennedy to Joseph P. Kennedy, Sr. and Rose Fitzgerald Kennedy.
After his father pulled some strings, JFK was able to enter the United States Navy in September 1941. His fatherÙs influence was needed because the Army had rejected him due to his chronic lower back problems, which would plague him his entire adult life. He was serving as an ensign, with a desk job in the Office of Naval Intelligence, when the Japanese attacked Pearl Harbor. Once again, using his fatherÙs influence, after completing the Naval Reserve OfficerÙs Training School in Chicago, he entered the Motor Torpedo Boat Squadron Training Center in Melville, Rhode Island. Upon completion of his training, he was assigned to Motor Torpedo Boat Squadron #14, based in Panama. On February 23, 1943, he transferred to Motor Torpedo Boat Squadron #2 as a replacement officer.
Motor Torpedo Boat Squadron #2 was based at Tulagi Island in the Solomon Islands chain, in the South Pacific. Kennedy arrived at Tulagi on April 14 and took command of PT-109 on April 23. On May 30, PT-109 was ordered to the Russell Islands in preparation for the invasion of New Georgia, in the Solomon Islands.
PT-109 was 80 feet long. It was manufactured by Elko Motor Yachts. The boatÙs hull consisted of two layers of 1" mahogany planking. It was powered by three 12 cylinder, 1,500 hp Packard gasoline engines and weighed 40 tons. Its top speed was 41 knots, but it was rarely able to achieve that under wartime conditions. Fully loaded the boat displaced 56 tons. It was equipped with four 21" torpedo tubes containing Mark 8 torpedoes. Each torpedo weighed 3,150 lbs. with a 386 lb. warhead. PT-109 also carried two depth charges. However, by the time Kennedy took command, one of the racks for one of the depth charges had been damaged and it only had one. The boat was also armed with a single 20 mm Oerlikon anti-aircraft gun and two open rotating turrets, each equipped with twin .50 caliber machine guns. The day before the boatÙs most famous mission, its crew mounted a 37-mm antitank gun to the fore deck.
The Navy had received intelligence reports indicating that five enemy destroyers were going to make the run from Bougainville Island through Blackett Straight to Vila on the southern tip of Kolombangara Island, in the Solomons. PT-109 and 14 other PT-boats were dispatched to intercept them. The boats were ordered to return to base once they had expended their torpedoes. Those boats firing first were the ones with radar, so that once they fired their torpedoes and left, the other boats, such as PT-109, were left without radar. More important, they were not notified that the other boats had already engaged the enemy. Therefore, the Japanese, having been alerted by the first boats, were on the lookout. With no moon, or radar, the remaining American sailors were blind.
No one saw the Japanese destroyer Amagiri, commanded by Lt. Commander Kohei Hanami (who attended KennedyÙs inauguration), until it was too late. In the ensuing crash, two of PT-109's crew - Andrew Jackson Kirksey and Harold W. Marney - were killed. The survivors decided to make for tiny - 100 yards in diameter - uninhabited, Plum Pudding Island - 3.5 miles distant.
As Jimmy Dean tells it, in the song "PT-109,"
"And on the coast of Kolombangara, looking through his telescope
AustraliaÙs [coast watcher Sub-Lieutenant Arthur Reginald] Evans saw the battle, for the crew had little hope.
Two were dead, some were wounded, all were clinging to the bow
Fighting fire in a fighting water, trying to save their lives somehow.
Smoke and fire upon the sea
Everywhere they looked was the enemy
The heathen Gods of old Japan
Yea, they thought they had the best of a mighty good man.
[Machinist mate Patrick] McMahon the Irishman was burned so badly he couldnÙt swim.
'Leave me here, Go on,Ù he said, 'because if you donÙt, weÙll all be dead.Ù
The PT Skipper couldnÙt leave him, a man to die alone at sea
And with a strap between his teeth, he towed the Irishman through the sea."
After towing, "... the Irishman through the sea," for 3.5 miles to Plum Pudding Island, Kennedy swam another 2.5 miles to Olasana Island, which had food and water. He then swam back to Plum Pudding Island and swam back, with his crew, and "the Irishman," to Olasana Island. That is a total of 8.5 miles, six of which were with McMahon. In the meantime, Evans dispatched Biuka Gasa and Eroni Kumana - native islanders - in a dugout canoe in search of survivors. When the islanders finally connected with the Americans, six days later, Gasa suggested that a message be sent by coconut. Kumana climbed a nearby coconut tree and retrieved one. Kennedy then carved the following message:
NAURO ISL
COMMANDER... NATIVE KNOWS POS'IT...
HE CAN PILOT... 11 ALIVE
NEED SMALL BOAT... KENNEDY
The two islanders then, at great risk, paddled 35 miles to the American base on Rendova Island. Then, as Jimmy Dean related,
"... Four more days and four more nights, a rescue boat [PT-157, commanded by Lieutenant William Liebenow] pulled into sight
The PT-109 was gone but Kennedy and his crew lived on."
The Navy was all set to court-martial the young lieutenant for losing his ship, when his father, once again, came to his rescue, and cranked up the Kennedy PR machine, touting JFKÙs heroism in saving his crew, especially McMahon. Instead of a court-martial, Kennedy received the Navy and Marine Corps Medal, the highest non-combat decoration for heroism awarded by the Navy.
"Now who could guess or could possibly know that the same man named Kennedy was to be the leader of the nation, be the one to take command
The PT-109 was gone but Kennedy lived to fight again."
NEXT: THE DEATH OF TZAR BORIS III
Mr. Wimbrow writes from Ocean City, Maryland, where he practices law representing those persons accused of criminal and traffic offenses, and those persons who have suffered a personal injury through no fault of their own.   Mr. Wimbrow can be contacted at
wimbrowlaw@gmail.com
«Go back to the previous page.