Written By: Hon. George A. Jones, Jr. Chief Judge, Danville General District Court, Danville, Virginia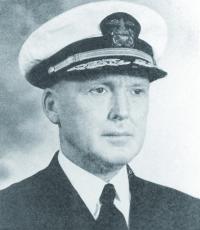 Rear Adm. Norman Scott, USN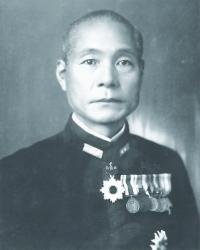 Rear Adm. Norman Scott, USN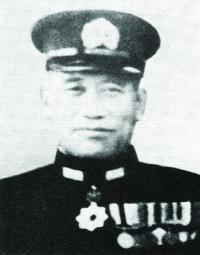 Rear Adm. Aritomo Goto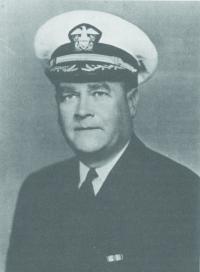 USN Capt. Gilbert Hoover, capt. of light cruiser USS Helena.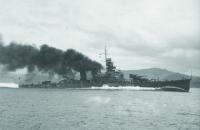 Japanese heavy cruiser Aoba, flagship of Adm. Goto.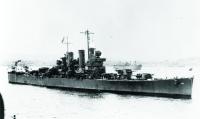 Light cruiser USS Helena, a veteran of Pearl Harbor.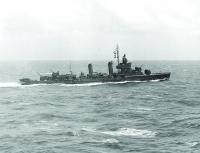 Japanese cruiser Furutaka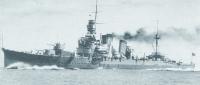 Destroyer USS Duncan, sunk during Battle of Cape Esperance.

The land battle for Guadalcanal began on 7 August, 1942 when U. S. Marines, with support from U.S. naval forces, invaded the Guadalcanal and surrounding islands. Within ten days elements of the 17th Japanese Imperial Army began the reinvasion. From that point it was the objective of both sides to supply and reinforce their respective forces and to deny the same to their enemy. Due to the effectiveness of U. S. air forces, the Japanese were limited to the night to supply and reinforce. Thus the "Tokyo Express" came into operation. By the end of September/October the U. S. supply and reinforcement situation was becoming perilous. As a result, the 164th Infantry Regiment of the Americal Division was ordered aboard ship to reach Guadalcanal on or about 13 October, 1942.
Rear Admiral Norman Scott's Task Force 64, consisting of four cruisers and five destroyers were tasked to interdict and destroy Japanese ships that would pose a threat to the 164th Infantry Regiment's convoy. On 9 October Admiral Scott took his post near Rennell Island to carry out his mission.
Forty-three years prior, on 10 August, 1889, in Indianapolis, Indiana, Norman Scott was born. He was graduated from the United States Naval Academy, class of 1911, was commissioned an ensign and served on a battleship and destroyer. During WWI he was executive officer on the USS Jacob Jones that was sunk by a German submarine. He also served in the Navy Dept. and as naval aide to President Woodrow Wilson. During the 1920's, Scott returned to sea service on battleships and destroyers as well as staff positions and even, for a time, as an instructor at the USNA. He commanded destroyers during the 1930's and captained the cruiser USS Pensacola until shortly after December 1941, when he was assigned to the Office of Chief of Naval Operations. In May 1941, now a rear admiral, Scott was ordered to the South Pacific, where he commanded a fire support group during the Guadalcanal invasion. In October 1942 Scott commanded TF 64 near Cape Esperance.
As part of a planned Japanese offensive in October, Admiral Gunichi Mikawa scheduled a large supply run for the night of 11 October. Troops, artillery, ammunition and other vital supplies were to be shipped to Guadalcanal. This supply convoy, known as the Reinforcement Group, was commanded by Rear Admiral Takatsugu Jojima. Simultaneously, Cruiser Division 6, composed of three heavy cruisers and two destroyers, commanded by Rear Admiral Aritomo Goto was ordered to bombard Henderson Field with the objective of the destruction of the U.S. air power.
Admiral Goto was born thousands of miles from Indiana in Ibaraki prefecture in 1888. He was graduated from Imperial Japananese Naval Academy, class of 1910. As a Midshipman he served on battleships, cruisers, submarines, and destroyers. World War I found him on land in the South Pacific as a radio operator and serving on warships. During the 1920s he began to command destroyers. He made captain in 1933 and attained higher commands. 1935 found Got a rear admiral and in command of a cruiser division. On September 10, 1941, he commanded Cruiser Division 6 in support of the invasion of Wake Island. Later on August 8, 1942, Got's Cruiser Division 6 fought in the Battle of Savo Island, where one of his four cruisers was sunk. In October 1942, Got is approaching Cape Esperance.
Naval battles are most confusing events. Too many moving parts to keep in mind. It seems that everyone is going off on their own tangents. Who is in charge? Who knows what is happening all around him? A ball of watery and fiery confusion. The Battle of Cape Esperance is the epitome of the effect of the "fog of war" and the role of chance and fortune in the lives of men and nations. Let us see if we can unravel this knot.
Prior to the meeting of the fleets both air forces attacked, defended, and reconnoitered. It was an American aircraft that sighted Jojima's reinforcement Group at 2:45 p.m. and inaccurately reported sighting two cruisers and six destroyers. Thus Scott was warned of an approaching enemy fleet and sailed to meet it. Any encounter would take place in the night and Scott knew that all previous night engagements had ended in Japanese victories. Not one Japanese ship had been lost in ship battles off Guadalcanal. To keep things simple, Scott planned a single column formation with destroyers at front and rear of the cruisers.
Goto was blithely sailing toward Guadalcanal without any notion of the presence of U.S. naval forces. As Scott reached Cape Esperance, he ordered TF 64 into battle formation. At 11:30 p.m. U.S. radar revealed ships approaching from the north. The Japanese, without radar, remained blind to the danger towards which they were sailing. A failure to communicate caused Scott's TF 64 to break formation, which caused further sightings of Japanese ships to be mistaken for U.S. ships.
It was not long before USS Duncan launched a torpedo attack on Got's fleet without informing Scott. Unbeknownst to Scott, a classic crossing of the "T" by his fleet was about to occur. Another miscommunication between Scott and USS Helena caused TF 64 to commence fire without Scott's order. So far luck was smiling on Scott.
Goto's fleet was totally surprised as shells began to strike his flagship, Aoba. Even then Goto thought that the fire was coming from Jojimba's fleet and thus withheld his fire. Within minutes Goto lay mortally wounded on his bridge. His last words were, "Bakayuro! Bakayuro!" (stupid bastards!)
Scott was still confused as to identity of those upon whom his ships were firing and ordered a cease fire. His order was only partly obeyed. Aoba turned away from the bright blast, leaving the cruiser Furutoka next in line to receive U.S. fire. Soon Furutoka began to sink. The remainder of Goto's fleet began to reverse and flee. Scott ordered TF 64 to pursue. More death and destruction visited both fleets.
Finally, at twenty minutes past midnight, all firing ceased and the fleets disengaged. Scott had just won the first American naval victory in the Battle for Guadalcanal. The physical results of this battle are as follows: American - 1 destroyer sunk, 1 cruiser and 1 destroyer damaged and 163 killed in action; Japanese - 1 cruiser sunk, 3 destroyers and 1 cruiser damaged and over 400 killed in action and 111 P.O.W's.
The effect on the home front morale was tremendous. The news of the battle spread throughout America. Scott was the man of the hour. TF 64 had done its duty by protecting the convoy carrying the 164th Infantry Regiment to Guadalcanal. Vital troops and supplies were delivered to the weakened U.S. Marine forces.
Even though Goto's fleet, and mission, was defeated, the US Navy did not stop Jojimba's Reinforcement Group from landing needed troops and materiels to support their impending offensive against U.S. forces on Guadalcanal.
Thus the naval battle at Cape Esperance was a tactical American victory and a strategic draw. Chance and fortune played a larger role in the conclusion of the battle than either commander. But as Napoleon stated, he preferred his generals to be lucky rather than good. Though chance was the superior commander it is fate that is the unseen hand. Of the two opposing captains, of whom it could be jokingly said were separated at birth, one, Goto, was dead. As Alexander Pope wrote, "A brave man struggling in the storms of fate and greatly falling with a falling state" was Admiral Goto's destiny. Admiral Scott would follow Goto within a month. His epitaph could come from the Roman poet Terence's poem "Phormio" wherein he wrote, "Fortune aids the brave."

NEXT WEEK: MADAGASGAR


«Go back to the previous page.