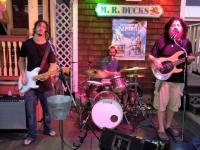 Lower Case Blues, Jake, Paul & BJ, rocked the deck with their special brand of blues.
Damn Right, I Got the Blues
2 paraphrase The Rock, finally! the Blues has come back to Ocean City!
Last month, Lower Case Blues had half of their tools of the trade purloined by some anti music lower life form, at least affording me the impetus and excuse for writing a long delayed (by a year no less...my bad) article about their fine fourth album. Last week they recovered at least one guitar and proceeded to return triumphantly to M.R. Ducks downtown on de bay. So with regard to underrepresented lo ere long these past couple column years, to continue my attempt to reconcile my oversight and show I'm contrite, here's an apposite straight review of the proceedings. Well, the first half of it anyway ... second sets being a, ahem, challenge for me.
As a prefatory note about the venue, it don't get no better than a waterfront concert: this is why we live here, fellow locals. Blues on the bay, baby. As the sun sets, yet. Said Blues began promptly at five with an old original shuffle, "Next Time I See You", BJ on bass/vocals and Paul on drums pacing themselves in reserve for now, Jake on the white Strat lets it loose and gets Buddy Guy post haste. Why wait, It's Five O'clock Somewhere. Bo Diddley's well covered "Before You Accuse Me", originally from 1957 with Willie Dixon on bass, at least was updated by a propulsive funky shuffle groove arrangement. Another Diddley big daddy of a number, 1962's "I Can Tell" followed as Paul gripped the lumber jazz style, eventually segueing into ZZ Top's "Jesus Just Left Chicago", just an excuse for Jake to outplay Billy Gibbons himself. An unnamed (cause I don't know the name of it) Albert King, of the three Kings (BB, Freddy, Al) influencing Lower Case Blues, number featured Paul's poly-rhythm with more cowbell and the first solo from Mister Muntz. "Turn Your Lights Down Low" was not the Bob Marley familiarity but an original twelve bar blues with a surf garagey "hey" refrain (!). The next original was by fellow local Blues man Tom Larsen and shall remain unnamed cause ... And finally, the finale was what we were waiting for: the first two tracks from the latest album, last year's Own Time. The title track was first, exemplar of Lower Case Funk as influenced by The Meters and Parliament/Funkadelic. As Beastie Boys sampled "oh my god that's some funky shit! "I Aint Goin Nowhere", the album opener, closed the set as it commenced, with a shuffle, this one driven by a staccato groove riff. Which brings me to the opportunity to bitch again about bands with an arsenal of their own good songs retreading and reheating worn, well tread and tepid covers. Will it stop? Hell no. Should it stop? Hell yes. But - Stop it.
That said, go see them anyway, the originals are worth waiting for, and you'll see virtuosity in the interim. At: Hammerheads on Bluesday Boozeday Tuesday afternoons, and Delaware Distilling Company on Thirsty Thursdays. These joints are in Rehoboth, LCB's home surfnturf, but if you wait for them to yield right of way south ... let's just say you'll be waiting. Til they do, I for one have a fine memory of a fine OC gig to last me ...
«Go back to the previous page.