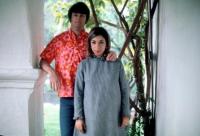 When a Man Needs a Woman ... Brian  & Marilyn (with child).
Overkill. It was the name and title track of Motörhead's seminal third album, the name of an also ran eighties thrash band, and also an also ran late period Jimmy Buffett song. It also best describes a second box-set of an album that already began with an expanded cd release. But this is no ordinary album. It's Pet Sounds, and this is its Golden anniversary, also the year of what many musos consider to be music's Golden year 1966. I had originally conceived, as I continue my series, of devoting an entire hearticle to the celebrated peak of Brian Wilson's genius - if not the peak of pop music, period. But given the omnipresence/ubiquity of such critical consideration, as we are blessed (?) with a new, improved (? again), expanded version of Sounds containing virtually every note from every session, all five months of them, I have reconsidered. The world does not require another exegesis. So in honour of Father's Day, and of Brian's 74th birthday the day following, what follows is a look at His (yes, I actually capitalized that) five Pa centric songs.
First the prefatory notes. Just as a final word on the legendary epoch as historical context: this month in that crucial year, Bri was in the first of three months of recording "Good Vibrations", only a two month break delimiting one astonishing sesh from another: the stunning "Don't Talk" wrapped the album proper on April 3, 1966.
As to Father Wilson - no intro necessary for Carnie, born 1968, and Wendy (after the wistful 1964 song), born 1969. The mother being, of course, Marilyn Revell of The Honeys, the "girl group" the nascent producer/songwriter worked with for three fine singles in 1962/3. Yes, He was twenty, as was idol Phil Spector when he placed the first brick in the Wall Of Sound.
"I'm Bugged At My Old Man" (May 1965) ...old man in question being, of course, one Murry Wilson, frustrated songwriter and former Beach Boys manager, having been fired by his own sons/nephew a year earlier for basic assholism. But that's another story and oft told tale. As to this Summer Days track, a singular moment in the Boys' recorded history and the most flat out hilarious in a career full of humor. I could quote, but couldn't choose betwixt the lines, of which there are ten in its two minutes plus.
Brian accompanies himself on piano, a call/response number with the backing harmonies.
"Child Is The Father Of The Man" (early 1967)
From the aborted Smile sessions resurrected in a remarkable renascence at the dawn of the new millennium...for a boxset. Second only to Pet Sounds in the history of canonized music, this two minute aura's title and sole lyrical content, courtesy of the nebulous, inscrutable (at least to begrudging, harrumphing Mike Love) Van Dyke Parks, was inspired by William Wordsworth's My Heart Leaps Up. A choice poet whom I rate, but for the purpose of leaping about I prefer Charles Bukowski's line about alcohol: you don't use it as a depressant but to leap into the sky.
"When A Man Loves A Woman" (early 1968)
..."he makes things like you my son". As a committed misopedist I don't identify, but a sweet ode to the producer's newborn (daughter) as he goes upstairs to bed and abandons (under)production to The Boys downstairs for the first time on Friends, which he later cited as his favorite group record; co-credited to Al Jardine and brother Denny.
"Breakaway" (March 1969)
An anomaly as it was the only collaboration in Beach Boys recorded history between Brian and his "old man". From the fine Sunflower/Add Some Music To Your Day period, before Murry sold the band's entire Sea Of Tunes catalogue for an exiguous sum, thereby completely alienating himself from one and all before his death a few years later.
"I Wanna Pick You Up" (late 1976)
Guilessness is nothing novel when speaking of Brian's lyrics, but this is almost creepily saccharine even by those standards of naivete. Another coo to tots, sung by bro Dennis in what was by now a rasp. Odd but strangely compelling on an album, Love You, of which the same can be said. Twas the second and final of the Brian's Back campaign, and indeed he was, as this was practically his first solo effort. As it stands, the last good album from the group and the last substantial contribution from what was once its competent, confident, if not fearless, leader.
Happy Father's Day, pops. Love You.
«Go back to the previous page.