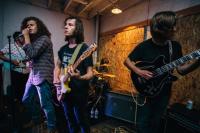 Modern Vices
How to provoke a Megadeth fan: the title of this hearticle refers to the third album...their last great one.
I think I'll start a new trad: opening the proceedings risibly.
That false start aside, I'll invoke, as opposed to provoke, my favorite Bob Dylan quote: "he not busy being born is busy dying." If you call yourself a muso - and if you don't, why are you reading my column - you are all about new music. Here's a troubling stat: the average individual stops seeking new music by age thirty. I am forty-four and my Spotify, Soundcloud, and Bandcamp accounts hold nothing but music that has been recorded THIS YEAR. By bands that were formed less than five years ago. So. Being that this is the mid point of the year (tedious tangent alert - I am so done with "Christmas In July" as that is seventh month past the holiday - why not June 25? - and especially Wednesday as "hump day" - Thursday is the mid week day!! OK, I'm done), I humbly submit my best of new music so far. Inna sample size soundbite: if you like their influences, you will like the band. Please check them out. They are listed loosely in order of my faves.
FLUFFER: Monolith (Cincinnati)
Van Halen used to bill themselves - well, Diamond Dave said it anyway - as Big Rock. Fluffer is another Big sounding power trio, albeit post rock, and post prog, post electro. Tricky time signatures retained. Pure joy.
COOL GHOULS: Animal Races (San Francisco)
Garage. Transcendentally so.
BRONCHO: Double Vanity (Oklahoma City)
Yes, from the home of Wayne Coyne and Flaming Lips. Astonishingly original vocals, the underbelly of Black Rebel Motorcycle Club. Undeniable melodies influenced by Dylan, The Doors, Fleetwood Mac, The Specials, Erasure.
THE HARVEST: assorted singles on Sound cloud (Myrtle Beach)
Transcendent, if naive and feckless, nascent dream pop from these young beach boys. As soon as they learn to play their instruments, they could be the next Ocean Blue. Yes, I just said that.
LOW SEASON: Westing (Fresno)
Bad ass west coast stoner rock influenced by James Brown, Led Zeppelin, Canned Heat, and Wolfmother.
THE GLORIOUS REBELLION: Euphoric (Orlando)
The most controversial hardrock concern since Spinal Tap, or at least Honky Toast. Lovem or hatem. I digm. They dig Stones/Metallica/Mudhoney. Politically incorrect to say the least. As a Libertarian I say no you don't have a right to not be offended. Up the Rebels, and up the Rebellion.
MODERN VICES: "Almost Seamus"/"Sacrifice" (Chicago)
Pscho Strokes, psycho Smiths, deranged doowop...loud and weird. My take? The singer is Glenn Danzig singing ""Blood And Tears".
THE CASKET GIRLS: The Night Machines (Savannah)
Post goth for fans of Savages and School Of Seven Bells and The Naked And Famous. And especially Baltimore's Lower Dens, who you need to go to on Spotify immediately if you are unfamiliar with. And I don't just dig them 'cause I'm a bred and spread Balt boy or 'cause I'm a homophile. They are the best band in Charm (Harm?) City.
«Go back to the previous page.