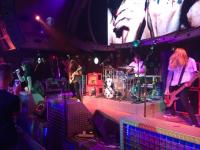 Bang that head that doesn't bang: Dorothy.
ANTHEM was the title of philosopher Ayn Rand's second major work. The dystopian futuristic 1937 novella's theme was individualism versus collectivism (society) as Rand had only defected from communist Russia a dozen years earlier and dedicated her life to denouncing that poisonous altruism.
Flash forward fifteen years to the birth of similarly ahead of his time (percussion wise; I've been attempting - and failing - to not just duplicate, but comprehend his astonishing fills... hell, riddims!) Rush drummer/lyricist Neil Peart. Brilliant from birth, obviously, a childhood weaned on Rand begat lyrics like "keep on looking forward no use looking round...live for yourself, there's noone else quite worth living for/begging hands and bleeding hearts will only cry out for more/we marvel after those who sought the wonders of the world". The politics of individuality, so relevant in this politically charged era.
Peart goes on to credit Rand live and direct in the (sonic) notes to 2112 thusly: "the genius of Ayn Rand". 2112, song and concept, was based on Anthem. Which is based on Aristotle: "the paramount goodness is happiness". And George Orwell's 1984, which as an anti big government, pro Libertarian tome, requires no intro.
So. That brings us to Anthemic. Van Halen - no perveyers per se of anthems, but that is open for debate - classified their music as "Big Rock".
Anthems are big rock - as in, not rock and roll. It's a stomp your hands, clap your feet sticky sweet piece of pink musical cotton candy. Slade probably invented it, despite what Quiet Riot, or my beloved Twisted Sister, would have you believe. T Rex? "Hot Love" was Marc Bolan's first foray into post trippydippy acoustic Dylan imitating duocentric simplicity. Early 71, pre Electric Warrior.
Kiss is still encapsulated (inKissurated? Or did Gene copyright that) by "Rock And Roll All Night". Dial A Cliche, of course, but I defy anyone to cite a more apt example of an anthem. BTW/FYI, Paul wrote the chorus, Gene the verses. Brilliant!
AC/DC. Early Cheap Trick. Riot (not Quiet). Hell - year zero - Sex Pistols, Buzzcocks, Clash, Gen X.
Dorothy?
As they say, don't fake the funk. Okay. Don't fake the rock, I say.
Impetus!
This band's impetus is dubious at best and I'm not afraid to say it, they are dangerously close to a Monkees/boy band factory fabrication. The roots in a Hollywood studio is suspect at best. As is the writing credits to everyone not in the band.
That said, I haven't headbanged that much since my heavymetal centric longhaired eighties daze. So I don't know if Dorothy is tongue in cheek - but if they are they are the best at what they do: the toppermost of the poppermost as it, er, were - Monkees/boy bands be damned.
The bottom line? They kick ass. Which. In these troubled times.
We can use.
As Ace says, keep Rocking until further notice.
«Go back to the previous page.