Kaleb Brown w/ Chino & Tuff Lion.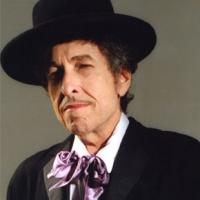 Prolific songwriter/singer Bob Dylan is 75.
Kaleb Brown, our "go to dread."
This was the week that we locals were waiting for, when we went from winter live and direct to summer. Therefore, my heat miser ass was moved to two shows, after flaking on the Funk Shue, that is - the past two boozeday Tuesdays at Harborside due to rain and/or cold. This Tuesday they bring it to Sunset Grill - at Sunset, yet - before the triumphant return to the Harbor next week. You heard it here first.
This past Tuesday I had to change it up from the jamdown of funk to the mellowed-down jamdown of de reggae. Regular followers of this column may be anticipating more anniversary coverage. Kaleb Brown may be mellow but he is not rock steady mellow, more ten years later inna roots style mellow. The new, two years in the making Roots Movement album is ready for release, and "My Love" (congrats, btw, on ur luck in love; I'm a gamophobic misogamist and would rather be dead than wed, but she seems a sweetheart), "Deliver Me", and the title track represented today. As a rule I don't do - hell, even acknowledge - covers. Unless they are obscure, being the elitest, obscurantist rock critic snob that I am. And, of course, exceptions made for extra long multi sets. So this qualified. The expanded KaleBrown Band is a trio and comprises the great producer/legend Tuff Lion on bass and beautiful backing voice and Chino on bongos and raspy vocals is thee leader of our Ocean City institution Zion. They play classic reggae, again, strictly roots. Speaking of which. Mister Brown boasts (not really, he is, as Lee Perry - who as I told you months ago celebrates his eightieth birthday this year - opened his 1973 Blackboard Jungle album - the first dub album (!) - "the meek and the 'umble") the best set list this side of Zion. The great Gregory Isaacs is always well represented: "Tune In", "Night Nurse", "Mister Brown" (ahem). "Push Comes To Shove" comes to us from Freddy McGregor. "Walk Away From Love", which I do daily being the sovereign solitary solipsistic scribe that I am (sorry, lost it there), was from David Ruffin.
A certain local radio station that once was worth tuning in to, then not so much, now a likkle more so at least during morning zoo drivetime 6-10 cause they, or I should say he, brought back my man from the now unfortunately defunct ROCK band Lower Class Citizens - occasionally has as an advertising guest, the great Warren Rosenfeld, proprietor of Rosenfelds Jewish Deli, just north of the route ninety bridge. He is Ocean City's "go to Jew". Love it. Can I designate Mr. Kaleb Brown OC's go to dread?
OC's go to all around musicians musician is the great Nate Clendenen. Go to
denenmusic.com
, there ain't enuff space here to explicate and appreciate his accomplishments, but he was among the first local concerns I wrote of a couple years ago when I started this Sonic. He hosted the annual Bob Dylan birthday show at Fager's Island. This year, as I told you last week, is his (Bob, not Nate) 75th birthday. So after excusing myself from the festivities - too drunk, too tired, too watching baseball... OK, usually the former- every year hence, this time I trekked a dozen streets south and dug it. So here are a few more words re: this enigmatic poet legend and 1966.
One of my favourite Dylan quotes: "he not busy being born is busy dying". As is my autodidactic philomath wont, I learned a new word of the day during my morning tablet constitutional perusal: frisson: the chills/goosebumps one gets from good music. The heartical informed the credulous among us that 3/4 of the population is susceptible to the phenomenon. Really? I would beg to differ. Most people are not really music people, which explains the sad hegemony of cover bands and classic rock radio: if you are a musical neophobe, you are not a music person. I can identify with Dylan: "oh my God, am I here all alone?" Yes, something is happening here but most don't know what it is.
Yes, I know that song was from 1965, not year of our lord 1966, and I'm breaching conduct by going slightly off subject. To right the ship, in contrast to Wednesday's tribute show, which was an acoustic event, this past month marks the fiftieth anniversary not only of the end of the greatest three album run outside of Beggars Banquet/Let It Bleed/Sticky Fingers/Exile On Main Street/Goats Head Soup (no, I can't count), or The Ocean Blue/Cerulean/Beneath The Rhythm And Sound, Bringing It All Back Home/Highway 61/Blonde On Blonde, it commemorates one of the most celebrated performances ever given, in Manchester by The Hawks featuring Bob Dylan. Or vice versa. Another choice Dylanology: "it balances on your head like a mattress balances on a bottle of wine". The fine three album series was fueled by speed and red wine, and it's obvious that amphetamines were the means by which the artist propelled this crack quartet. This was the infamous "judas!" gig, to which my man's brilliant retort was "I don't believe you...you're a liar", before defiantly turning toward his backup musicians and informing them thusly: "PLAY FUCKING LOUD." This pretty much defines defiance. Like Mick Mars' classic quip of his response to the 1980 trendy
Los Angeles band scene: "everyone was wearing skinny ties, playing polite power pop. I looked around and said, I'm not gonna do that. I'll grow my hair to my ASS and play the loudest, rudest hard rock ever heard". Which basically is my life philosophy.
Dig your Beatles, Stones, Dylan, and rocksteady, but not at the expense of new music. Be busy being born - not dying. Nostalgia = decay. Happy Memorial Day.
«Go back to the previous page.