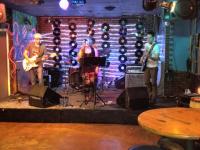 Funk Shue plays originals and covers with originality.

When I first pitched this column to CEO Golden a couple years ago, it was premeditated on the cause of promoting Ocean City's, or at least Delmarva's, music - I don't say "scene" because, sadly, the original (stressed original, and indeed it stresses me) band situation in a tourist economy resort community is lamentable. Touristas check their brain at the bay and don't want to be challenged with new music, they want to get drunk and hear what they heard on the way here in the car. Then again, that's the demographic of the average music consumer in general and another article. But I will proffer: ordinary/common people aren't like you and me, we're the builders for eternity ("Book Of Rules", The Heptones, 1972)/ we're the builders of their destiny ("Go Let It Out", Oasis, 1999); by that I mean simply I am not the average music consuming bear. Music is my radar (Blur reference); it is how I approach my life and perceive my world; it is not simply background music to accompany my mindless commute.
It is my life.
But I fess to an ancillary ulterior motive. I had an agenda: Lower Class Citizens, Delmarva - hell, the mid Atlantic's - best band. That was my priority. But that was a stunt not to be repeated, as they were defunct (defunked) even then.
The Ocean Blue, actually from 200 miles northwest - Hershey - but my favorite band, themselves in semi retirement, so another moist cause.
And my other faves, The Stones and The Beach Boys. As this is the 50th anniversary of music's greatest year, still more to come from this obsessive on them.
But this week, I'm staying true to my initial proposal to Brenda: local stuff.
After this ... next week, Sunday Bloody Sunday April 24 to 29 Friday is the Irish Rebellion Centennial, the Rising, to which my last two columns were devoted. One more band for your soundtrack: New Valley Wolves, from Dublin, are indeed new lads with an old aesthetic, White Stripes style heavy guitar/drums blues. Rory Gallagher, Nirvana, Queens Of The Stone Age are inspiration. "Eyes On Me" was just recorded a few months ago, dig it now.
Alrighty then. Funk Shue. I covered this new true Local jam band - I know the term is pejorative /dysphemistic in this post Dead/Dave Matthews/Phish era, but when dese tree youts (My Cousin Vinny reference) jam, as they did last week at The Alibi Room and last year at Harborside as the Tuesday night house band, it sets the rays to positive (Smashing Pumpkins reference). This just in: down the road apiece (really across the water) at Sunset Grille Tuesday, May 24!
Funk Shue play long, bass orientated, mellow down easy, dubwise, mellifluous, somnificent instrumentals when not fronted by the lovely lass with the most soulful voice this side of the Chesapeake. The resident Flea has fingers comparable to the most famous bassist to ever play The Star Spangled Banner - that is to say kinetic. The White Strat player wows with wah. The drummer has flair with the snare. Three ectoplasmic Caucasian droogs dwarves by their instruments but growing into them. Speaking of growing into their space, The Alibi Room occupies the former Pour House downtown on that infamous block also occupied by a couple other institutional bars. It's the best place in town because they feature live original music, mid week. Nuff said.
As a solipsist I'm aware that my tourist baiting is Pharisaical, as I myself am a come here, not a born here. I'm a bred and spread Baltimore (a nice place to leave) boy. But I saw thee light, now on the right side of God ('s country) and the bay. So I feature bands based over there: Sheer Mag and (upcoming article) Harsh Vibes from Philadelphia. My good friend/great guy Keith Thompson's Fatally Yours and really big deal Lower Dens from Baltimore; and the Blueswailingest The Nighthawks from soon to be a state DC. I covered these cats in my 7/17/15 (OK kids go to features/Sonic Notes/view all archives) submission Cure For Polydipsia so suffice to say this classic Chicago blues trio with blueswailing blues harp front (they are a blues band...did I mention that) still has the same lineup and area still backing their last album which predates my last article on them. They will do it again Sunday night 24 April at the rilly big shew, The Globe in Berlin's tenth anniversary. For free, yet. So you can afford to spend some green and go green for Ireland by drinking the black stuff (Guinness/Murphys). While you hear blue...
Ah oye amigos y amigas, Jueves (Thursday) esto es Cinco De Mayo. Y mi cumpleanos. Si I am forty four senor. Going on twenty two. Halve me if you would have me. I have heard that Mexicans don't rate this secondary to Independence Day, which Cinco is not, pseudo holiday but Plaza Tapatia in Ocean Pines does, and they do their usual happy hour all day that dia which is the best Mex around with $2 Tecate and dollar tacos. No more than you should be caught drinking domestic beer dyed green on March 17 should you drink a fake Mexican beer in a clear (never buy beer in a clear bottle; it is skunk junk) bottle on May 5 (I'm looking at/through you Corona). And that same day is Springfest.
I know I'm not the only one with mixed emotions (Rolling Stones reference) regarding Jurassic Park but the first day is locals day and an excuse to drink Killian's ( I know tis brewed by Bud but is only $3 and for a good local cause) all day in the sun in the parking lot.
Log off and go to the Alibi Room and spend some money.
«Go back to the previous page.