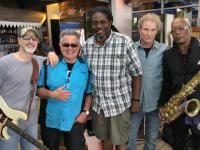 Rockett 88: Mike "Pops Diesel" Petrillo (guitar), Mark "Dr. Harmonica" Kenneally (harmonica/vocals), Michael "Spike" Bryant (percussion), Pat Reading "The Ridley Rasta" (bass) & Darryl Ray Jenkins (tenor sax/vocals).


...he carries a harmonica. From an observer with an aptronym, I give you the best local band with a nameling after possibly the very first (so legend has it) rock and roll song you'll ever see. Spring (or some rainy excuse for it) brings back the harp attack: I documented the Doc a year ago ("How Blue Can You Get" - I clicked 'view all archives' myself as I do whenever I compose - ok, dash off: to paraphrase the man, this song/article took me five minutes to write; I was drunk at the time - a fresh hearticle on a previously covered subject) on another Blue Monday and can dutifully report that the status quo stands. Predictability is not deprecatory: a Rocket Redux is as nidulate as your blue suede shoes. Hell, even the new tunes are old: Poultry And Adultery - the cover shot is of the frontman serenading titular fowl - was recorded a couple years ago. But this genre- rockabilly/Chicago blues (Chess; Rockett 88 opened for Muddy Waters, Ko Taylor, and Mark/Dr Harmonica's hero James Cotton, which invites a debate as to who was the best blues harp blower, Cotton or Little Walter)/New Orleans funk & rnb) is ageless. When it comes to old school rocknroll, retro is not necessarily stale nostalgia.
The Doctor was in the house on May 9, the house being Fager's Island. The second Monday deck party of the year topped the Zion headlined first, and even with the Jamaican soon come ethos, de reggae came pon time at the advertised 5:30 at the inaugural party. I'm not in favor of late start times, but the sun shone for the first time in two weeks at 1730, so the Rockett blasted off an hour late while we heliophiles apricated outside. Blues combos open with an instro- this one's last album's first song was an instrumental called The Wizzinator, which I like to think was inspired by Motorhead's Phil Wizzo Campbell. Just as Keith, the bandleader, takes the first solo at Rolling Stones concerts, Mark took first spotlight. Then again he's always in the spotlight, commanding his stage by standing a couple feet in front of the band. Darryl Ray's sax took the other solo. "Goodbye Baby You're Gone" repeated the process; the third solo introduced guitarist Mike Petrillo. "Bo Diddley" was the set's Chess piece. Curiously, "Goodbye Baby" was restarted before aborting mission in favor of "I Believe I'm In Love With You". Professor Longhair's "She Walked Right In" was the New Orleans section of the opening hour and featured Mark, Darryl, and Mike again. "You ever wake up on somebody else's couch and you don't know how you got there? This is Ocean City's theme song, I wrote it in 1985" was the song introduction of the set; Mark's famous for them. Give the drummer some: Mike Bryant is fun to watch, a big guy who hunkers down over his lowered kit, with a tambourine on the hihat. He proved himself a jazzman at heart on the brief solo he was given before the inevitable "Turn On Your Lovelight" was utilized for Mark to introduce the band members, including bassist Pat Reading, who holds it down while still loose like a long neck goose, to use a metaphor from early rocknroll. Rockett return this Sunday May 15 at five (let em be late, I work til then) at another bay bar, MR Ducks. Always a (duck) party there.
As an epilogue, while on the subject of that old time rock and roll: Cruisin rolls out with a classic car parade on the boardwalk at 0800 this Thursday morning (May 19).
«Go back to the previous page.