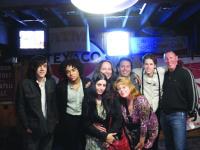 Band members of Tiva Tiva with Brett's parents from Ocean Pines: Brendan, Daniel, Jessica, Ted, Darren, Deb, Brett & Scott.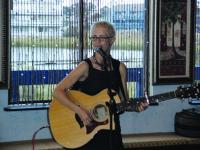 Helen Austin performs at Venus on the Half Shell.
Chris of Big Fat Slim and the Has Beens toasts the wedding couple, David & Stacia Silbaugh, with toast and champagne.
It's the ninth annual Dewey Beach Music Conference and Festival (DBMC) and I've attended the past seven and always have a blast. Vikki Wells is Executive Director for this music extravaganza: 142 rock bands from across the U. S. and a few foreign groups performed at 10 venues on 12 stages all in close walking distance to the Rusty Rudder and these shows were free to the public. There was a minimal cost to attend the conference which held day-time panel sessions and mentoring discussions provided by more than 40 music industry representatives. The four VIP parties were excellent with the Venus on the Half Shell party the highlight of the weekend featuring stellar performances by Helen Austin from the U. K. and Brother Joscephus & The Love Revival Revolution Orchestra from NYC.
The weather had been very windy, overcast and "iffy" Thursday and Friday up until the Venus party. Venus on the Half Shell is a way cool fine restaurant and bar on the bay with a lovely beach. The sky just magically cleared up in time for the beautiful sunset as we enjoyed such yummies as ahi tuna, seaweed salad, lamb chops and crab balls, just to name a few of the delectable goodies. Helen Austin got the party off to a great start. I caught her show earlier in the day and knew we were in for a treat. She now resides in British Columbia with her husband and two children. Helen has an amazing voice and is an excellent songwriter as well as wonderful guitarist. Helen's stage presence was fabulous and I later learned while chatting with her that she was a standup comic for 20 years. My favorite song of hers was about her dearly loved high maintenance son; I could so relate! Vikki met Helen when they were working on the movie "Mayor Cupcake;" Helen has three songs in the movie.
Now, the last thing I expected was a brass band second line New Orleans style parade into Venus on the Half Shell. Imagine if you can my utter surprise and delight when Brother Joscephus & the Love Revival Revolution Orchestra did just that! The Right Reverend Dean Dawg was dressed in white tails with a Mardi Gras King's crown and purple gloves. He led the parade playing a brilliant Christmas green colored trumpet. Brother Joscephus was also appropriately dressed and sang N'walin's songs with a bull horn as the rest of the orchestra followed with their trombones, trumpets, saxophone and sousaphone. The female vocalists wore adorable short white outfits and trilled their parasols as they second lined. They looked like they had just been transported from performing on a corner on Royal Street in the French Quarter. Well, I just thought I'd died and gone to heaven. I just love all things New Orleans and this orchestra was such fun! I saw their show at Rusty Rudder later that night and was totally blown away with their showmanship. The regular performance included keyboards, xylophone, drums, acoustic and electric guitars in addition to the horns. Everyone loved this group and I'm hoping we can get them for a show at the Freeman Stage next summer.
In addition to discovering new talented musicians to potentially book at my concert series, it's great to see musicians who attend and perform each year. Some favorites are Cliff Hillis and his band from Pa., Honor by August from DC, Rachel Platten from New York, Jennings from Nashville, Rod Kim from St. Louis, School of Rock from Delaware, Kingsfoil and, of course, our own Lower Case Blues. LCB did an acoustic set at Hammerheads and the boys were so relaxed I felt like we were in their living room. Jake and BJ have been playing together so long that they just know where to go with one another to make awesome music. BJ was so funny saying "there're too many strings on this bass and they're too skinny" as he played his guitar. BJ even did some slide guitar for us as he sang "Key to the Highway." As aways, Jake amazed the audience with his awesome guitar playing. Jake, BJ - I love you two; in my book, you're simply the best blues guys at DBMC every year!
Another group I just loved was The Bullbuckers from Wilmington, Del. I heard them at Fager's Island in August and became an instant fan; I hope they will return to O C soon again. They played at the Lighthouse Friday night and gave a fabulous show. This six-piece group with a horn section is like the ultimate party band. Whether they are playing reggae or another style, their music just sounds so happy. In addition to originals, I really appreciate how they take Motown R&B songs from my generation like "Give Me Some Kind of Sign Girl" and "Please Don't Leave Me" and truly make the songs their own. My favorite song was written by the bass player and lead singer Kevin about his dog named Otis; I strongly suspect that the dog was named after Otis Redding. The Lighthouse/Cove had a new area for music this year and was a great venue. I was so happy to see Mike Collins working sound; he did his usual splendid job.
I told Daniel Dejesus (song writer, vocalist and cellist extraordinaire) and Ted Richardson of the newly formed Tiva Tiva to be sure to request that they play whereever Mike Collins is next year. My biggest complaint about DBMC each year is that the sound sucks at many of the venues, especially the Bottle & Cork! There was a band with a three-piece horn section playing just before Tiva Tiva and even when I stood in front of the horns I could barely hear them but the ear deafening bass had my whole body vibrating. Daniel's songs are so beautiful and I look forward to hearing his unique style each year. Well, his new group really put their heart and soul into the show but I couldn't understand any of the lyrics and rarely heard the cello. If I didn't know just how exceptional this group was, I'd never go hear them again because the sound guys did such a terrible job. Check out the picture of Bret (bass) and his parents (from Ocean Pines) and the rest of Tiva Tiva.
There is a real family feel about DBMC and this was so evident at the Down Home Delaware BBQ held at Northbeach Restaurant & Bayside Bar Saturday. It was catered by Jimmy's Grill and the fried chicken was awesome! Even more outstanding was the music provided by a local band called Big Fat Slim & the Has Beens. I don't think I've heard anyone play a Ricky Nelson song since our dear friend Michael Tracey White died. This rockabilly group was absolutely fabulous; I gave Chris (the lead singer) contact info for the Steer Inn and hope we'll see them there soon! This party had a wonderful surprise. David Silbaugh has been a panelist and mentor to DBMC for at least as long as I've been attending the conference. David is one of the leaders of Milwaukee's Summerfest; an 11-day festival with 700 rock bands. He married the lovely Stacia in Minnesota last Friday and spent the first part of their honeymoon at DBMC. Vikki had champagne for all and a beautiful huge wedding cake was brought all the way from Wisconsin. The band gave David and Stacia a special toast (along with a piece of toast as you might detect in the picture). Big Fat Slim & the Has Beens lead singer Chris sang a special third verse of the '60s hit "Louie, Louie:"
"The DBMC kicks major ass
And we all know that Vikki Walls is the best
But this show's for David and Stacia too
Give it up for the Silbaugh's
Can I get a Woo Hoo?"
Okay, so these aren't the finest lyrics, but the message is clear that this music conference is warm and fuzzy special and to quote Chris again, "Vikki Walls - she's a goddess beyond words."
I spoke with Vikki at the closing brunch Sunday and she's got some terrific ideas for next year's 10th DBMC so mark the first weekend of October in your calendar for 2011!
«Go back to the previous page.