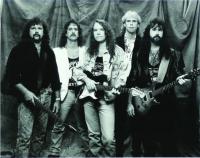 Late '80s Great Train Robbery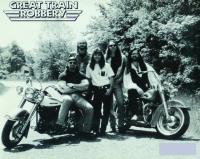 Great Train Robbery 1992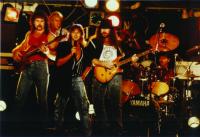 Photo shoot for magazine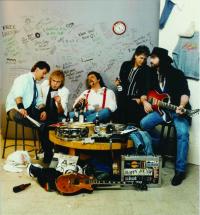 "Short sets, long breaks, big money!"
Dave Capozoli, bassist and long-time member of Great Train Robbery, has been busy lately contacting all former members of the band. That's been no easy task as he calculates there are about 60 who were former members and around 20 (with the band for at least a year) roadies. Why has he taken on this challenge? To present a very special show to be held on Friday, June 28th, at the Paddock Night Club at the Party Block in Ocean City, Md. Dave took a few minutes to talk about the band with me.
"The band was formed in February of 1977 as a country/rock bluegrass band," Dave says. "They soon began to drift more towards Southern Rock," he continues, "so by the time I joined on Labor Day weekend of 1980, we were a full-fledged Southern Rock band. That first job with them," he remembers, "was played at the Lifeguard Ball in Bethany Beach, Del." He tells me that the original lineup was a big band of seven members: two drummers, Ray Berzins and Ken Roughton (now w/ Randy Lee Ashcraft and he owns Fenwick Island Surf Shop); guitar work came from John Giles, Rich DeSanco and Greg Leppo who was also the frontman vocalist; keyboard player Duffy Moorhead and, of course, Dave on bass. They played with that lineup for four or five years.
That was 35 years ago, an incredible feat for bands to stay together that long, but of course, there have been many players over the years. The band's 35th anniversary is the perfect time to bring back as many of those players as he could to stage a reunion show.
When I asked him if band members held down other jobs he said, no, they have always been full-time musicians.
"We've always been a road band," Dave says. "We go where they want us to play. It's always been important to go on the road to stay fresh and make a living." Over the years the band has played all over the mid-Atlantic region: Penn., Va., Md. and Del. "There were so many more clubs to play in back then and we stayed busy," he recalls. "Starting in '87 we began traveling to Florida a lot. Between September and May we would play venues in Miami, Coconut Grove, Ft. Lauderdale, Daytona, Jacksonville Beach and Boca Raton. Then we would come back and play around here in the summer months."
Great Train Robbery has put out eight CDs of all original material, two of them recorded live, most recently at Rams Head, Baltimore. In '97 they recorded Six The Hard Way, a five-song CD that included former members Jim Allison (deceased), John Cole and Bobby B. Their Rolling Thunder CD was a four-song disc with all sales proceeds going to March of Dimes. They are currently working on new songs for their next CD with Will, Ted and Dave collaborating. That leads me to the current lineup: Ted Goles, lead guitar/vocals, Will McIntyre, guitar/vocals, Dwayne Adams, drums, Billy Weyforth, keyboard/vocals and Dave Capozoli, bass/vocals
"We usually play with a four-piece lineup when we play at The Purple Moose and include Ted for a five-piece when we play at The Paddock," Dave says.
"I'm expecting about 25 guys to show up for the reunion," Dave continued. Guitarists we can expect to see include Jamie LaRitz, Rich Mascari, Sean Hughes, Kurt Froberg & Jeff Avery. There should be four or five different versions of the band with the current group beginning the show around 10 pm, probably followed by the earliest members.
This promises to be an incredible night of rock 'n roll from some of the best players in the business, all right here at The Party Block in Ocean City.
«Go back to the previous page.