"A Connecticut Yankee in Ocean City's Court": An outsider's experience of pre-season area activities
Exotic cocktails entice patrons of the Sunset Grille's Teaser's Bar on Isle of Wight Bay, Ocean City.
In this night view of Ocean City, lights twinkle along the Boardwalk and at the many hotels, restaurants and nightlife spots that dot the area.
The bottoms of bottles embedded in the bar at Seacrets Jamaican-style bar provide a festive glow for Ocean City nightlife enjoyers.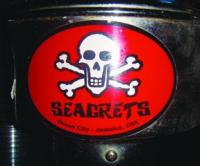 Seacrets' logo as seen on a tap handle at the Jamaican-style bar on Ocean City's Coastal Highway strip.
(Part I of a 4-Part Series)
By Mike Lauterborn
© 2010. All Rights Reserved

Ocean City, MD – It was mid-April -- Spring Break time in Connecticut -- and my school-aged boys and I were ragged. Some well-earned fun in the sun was called for. A brochure from the Holiday Inn & Suites in Ocean City, Maryland seemed to offer the perfect panacea. Titled "Destination Vacation" and full of visual eye candy, a reasonable pre-season rate and enticing phrases like "Spacious" and "Luxury", it tipped our hand. We booked a 3-night stay and set off at sunrise on a fine Thursday morning.
DAY 1: THURSDAY, APRIL 15
The five-hour trek down, broken up by a roadside stop for delectable chicken kabobs at Balan's Produce & Barbeque in Newark, Del., went quickly enough and soon we were inching down Coastal Highway to the Holiday Inn hotel at 17th Street and Baltimore Avenue. Our suite, on the hotel's top floor with separate rooms for the boys and me, a full kitchen, large bathroom with Jacuzzi tub, dual TVs and a three-direction oceanfront view, was everything promised and more.
The adjacent beach was our first order of business and we plunked down near Becca, a raven-haired lass visiting from California. She was also on her Spring Break and visiting her welder husband who was here on a contract job. We chatted about a memoir-style book she was reading while gentle waves lapped at the shore. Nearby, the boys tossed a Frisbee back and forth and scrambled around in the sand. It was a promising vacation start.
Pursuing a tip from the front desk, we b-lined to the Sunset Grille on the flip side of the Route 50 bridge spanning Assawoman Bay. It was Happy Hour and the outdoor bar, Teasers, hummed with activity and reggae tunes. Head Teaser, Megan the bartender, guided me to cheap $2 Yuenglings and a value-packed Seafood Feast offer. The latter included a selection of three courses all for an astounding $11 price tag. I opted for crab & corn chowder, shrimp fra diablo on grilled artisan bread and a poppy seed crusted Atlantic salmon.
The crowd around us was a mix of locals and out-of-towners, like American-bred Wayne and his coffee brown Costa Rican wife Isabella. They were tipping back Miller Lites and told me how they met in her native country where he operates a sport fishing boat. I figured he felt right at home at this establishment, which was adorned with dozens of photos of fishing excursions, boats with names like "Hammer Time" and "Reel Addiction" and trophy catches like mako, blue sharks and tuna.
Back over the bridge and up C.H., Dumser's old-style burger and ice cream shop spooned out dessert: a soft serve cone, shake and sundae. From this vantage point, we eyeballed adjacent Seacrets, a Jamaican-style sand bar/restaurant and flagged it as a point of later visitation.
Parking the boys in the room, I ventured to Pickle's Pub. Milling about was a local crowd, about 90 percent guys and fishermen types, all with almost identical "uniforms": hat with fishing logo, polo shirt of varying color, sunburn, PBR in hand. It was open mic night and some hacks had the stage. I looked on as heaped plates of bar food motored from grill to hungry yaps, grizzled guys fist pumped to "Cat Scratch Fever", shots in wee plastic cups were tipped back and some awkward, highly amusing dancing ensued.
Transferring to the earlier-visited Seacrets, I encountered at the sand bar Pittsburgh-produced Lauren, 23, and pal Jenna, 24. These brunettes, professionals by day, were here to blow off steam. They were a potpourri of ethnicities between them including Croat, Scotch, German and Czech and had dads who were home winemakers. "We are so multi-dimensional, it's ridiculous," they boasted while telling me about a self-hatched drink concoction they called a "Peach Bellini Winerita": fresh squeezed peach juice, champagne, chardonnay and ice. We enjoyed a couple rounds of cheapie Coors Lights while Bob Marley's "Buffalo Soldier" played in the background. We also admired bottle bottoms that were embedded in the bar's cement foundation, which glowed with different colors. The warmth these emitted attracted the girls; I admired the design – classic opposite Mars vs. Venus perspectives.
As they drifted off to join a "pants on the ground" crowd that had gathered to enjoy DJ Wax on the dance floor in the adjacent wing, I sauntered over to Katie, a slim, petite Asian woman who was amongst a group of friends. A Miller-Coors marketing rep based in Baltimore, she used to handle Ocean City accounts and was having a little reunion with her old bosses and co-workers. While marketing was her way of paying bills, her passion was free-hand drawing, especially people portraits, and she wished to pursue this interest. I thought about Katie's as-yet unfulfilled dream as I returned to the hotel, perchance to do some of my own dreaming. It was a good first day away… TO BE
CONTINUED IN MAY 14 ISSUE OF COCONUT TIMES
Mike Lauterborn is a Fairfield, Conn.-based freelance writer and author of "Chasing Charley", a soon-to-be-published recreation of John Steinbeck's 1960 "Travels with Charley" road trip adventure. For more info:
http://www.facebook.com/MikeLauterbornChasingCharley
«Go back to the previous page.