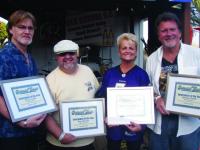 Old School OC was awarded the Coconut Times Entertainer of the Year on Sat., Oct. 4 during a performance at Coconuts Beach Bar & Grill.
Old School OC - Michael Smith, Linda Sears, Erve Cassell & Ray Perrone
As all my readers know, each year I choose a group, duo or solo that exemplifies what live music in Ocean City is all about. A few of the criteria I consider in making my choice are: musically proficient, good fan base, number of venues and generally, crowd reaction to the performances. All of these considerations led me to name Old School OC as this year's recipients. The comment I hear most often when referring to this band is, "they're so much fun." To refresh your memory, here is a list of the previous Entertainer of the Year recipients: beginning in 2000, Jim Long followed by Danny Dolan (First Class), Opposite Directions (Darin Engh & Bob Wilkinson), Kevin Poole, Michael Tracey White, Joe Smooth, Kathy Denk & Lauren Glick, John LaMere & Chris Button (Crowded Outhouse), Randy Lee Ashcraft & The Salt Water Cowboys, Tranzfusion, Full Circle, The Chest Pains, the Mood Swingers (Lauren Glick, Mike Armstrong, Mark "Bubba" Phippin & Ted Galinas) .and in 2013 2Guyz & a Mama (Dave Sherman, Chris Button & Joe Mama). Following are my conversations with the members of Old School, beginning with, ladies first, Linda Sears.
I sang in bands for years back in Baltimore. When my husband John and I began spending lots of time here in the summers, we went out to hear music and I first sat in with Randy Lee Ashcraft who encouraged me to "get a band." It was at Harborside that I met Ray Perrone and we talked about our goals to begin performing again and decided to put a band together. Since then, 2010, we have experienced some ups and downs with personnel but in 2012, with the addition of Erve & Michael, we felt like we had assembled a fine group of players. More than a group, we felt like a family and we were having fun and it showed. Audiences responded and that talent and love for what we do culminated in receiving the Coconut Times Entertainer of the Year. What a thrill! With growth also comes change - the next time you see us, Wed., Nov. 5 at BJ's, we will have our new guitarist with us, Taylor Knox. We're so excited to have this fresh infusion of young talent and we're working hard to present a new show of the best of the old and stepping it up with new material as well. Like family, we love and care about Michael and wish him all the best in his new endeavors. As for Old School OC, we're looking forward to continuing to bring fun and excitement to our audiences in 2015.
I next spoke with guitarist Michael Smith who has decided to move on to new projects. He has already had great success playing solo gigs at such places as La Hacienda and Longboard Cafe; and who knows, maybe he and I will do some more duo work this winter.
I joined Old School in 2012. It was a great way to transition out of all the years that I spent playing on cruise ships and it helped me establish a name for myself here in Ocean City. It also helped my solo career, opening some new doors for me. While I sincerely appreciate having been given the Entertainer of the Year award with Old School, I feel that 2015 is a time for some new beginnings. I'm ready to perform more solo gigs, and I'm excited about a new collaboration with drummer Jay Stinemire (of The Break) who also has a fine singing voice. Look for us around town as Reform School.
I think Ocean City is an unbelievably great spot for musicians who are serious about their craft and live entertaining because there are so many outlets in which they can perform. I was lucky to have had so much time performing on cruise ships and I'm equally lucky to call Ocean City home. My cruisin' days are over.
Next up is bass man Erve Cassell who I always see arriving early and leaving late to all the gigs as he provides most of the equipment (speakers and such). As you'll see from his comments, Erve has always been the guy who gets it done.
I joined Old School OC in April of 2012. I had been sitting home alone (wife Missy was out of town) and it was my 60th birthday and I was feeling pretty sorry for myself. So I decided to go out to BJ's and hear Old School. They called me up to play a few songs with them and a few days later offered me the job, as their bassist was having some health problems.
I had not played full time in a group since the '70s as I met my wife Missy in 77 and we were busy raising a family. Missy is a great singer so we began playing contemporary worship at our church and also music ministry which led to the formation of Power Productions. For 11 years we put on shows in convention centers and from 12 to 15 large churches in Salisbury in which we sang and acted. We wrote our own music for these shows and I did the sets and designs while Missy did the lead vocals/acting. Missy and I also did duo work and played every Sat. at Assateague Island Oasis for a while.
So I hadn't played with a rock band since '77 but around 2002 I went to an Open Mic at The Wedge (now The Shark) with Doug Mayhle, Al on guitar, Ernie on drums and Missy singing. For the next 4 1/2 years we were Spontaneous Combustion.
All along I continued my day job as a manager at Micro Works designing and manufacturing furniture (with about 35 employees) and distributed to about 35 stores on the east coast. I'm still an active contractor with my own company called Cassell Enterprises, building new or renovating kitchens and bathrooms.
Going forward this year, with Taylor coming in on guitar and being young and fresh out of college, we plan to still perform the music we're known for, but we plan to work on some new repertoire with Taylor that will encompass a new set of classic rock. My goal has always been to have fun, while being serious and selective with our music so there's something for everyone in the audience. I like to find the songs that are upbeat in the lyrics and are not the usual songs everyone else might play. I'd like to keep it fresh, and always have fun.
Last, but certainly not least, I spoke with drummer Ray Perrone, who by day is one of the most respected barbers in the area, and at night loves playing drums.
My wife June and I have been here 10 1/2 years and I've met many local musicians by attending open mics. I hooked up with the Time Warp Blues Band, ending in around 2000. One Saturday I met Linda and her husband John at Harborside where I heard her sing and we talked about our past in bands in Baltimore. This led into talking about starting a band of our own, which we did.
I'm always up for doing some other things, such as hosting Open Mic nights; a way to sort of give back from where I started around here. Last night I set up my drums at the Pour House with Adam Ask on guitar (Monkee Paw), Joe Daddy on bass and me on drums. Last night was a fill-in for me, but it will be a weekly Thursday open mic there.
It was a great honor to receive the Coconut Times Entertainer of the Year award. Recognition from the award has already opened some doors for Old School such as a Nov. 22nd gig at the VFW in Ocean View, and we'll continue our first Wed. of the month at BJ's, the next one being Wed., Nov. 5. We're looking forward to all our 2015 gigs already being booked; such as BJ's, Plim Plaza, Coconuts and The Angler.
I'm excited to have Taylor Knox, a recent graduate of the Berklee School of Music, playing guitar with us. I first met him when he was so young he didn't even have a driver's license and his mom and dad (Roger & Sue) would bring him out to open mics and he would sit in with bands such as ours. So we're happy to bring him into the band. With the addition of this new young player, we're looking forward to some new music selections we're working on now; newer classic rock. I'm excited about the new direction we're taking with the music even though it does mean we have to go back to the school room to learn some new stuff. I'm having a blast - come join us!
«Go back to the previous page.