photo by ocfotoguy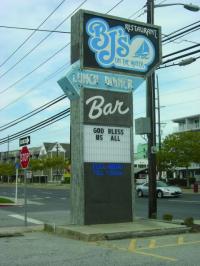 ...and He did.
photo by Frank DelPiano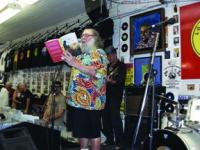 Author John Swenson reading from The New Atlantis: Musicians Battle for the Survival of New Orleans with Paul Sanchez playing guitar in the background at Louisiana Music Factory.
It's August 29th - Happy Birthday to me. I'm a Unitarian and probably don't pray as much as my Christian friends, but I sure prayed a lot 8/29/'05 in hopes that New Orleans would be spared from Katrina. My prayer was answered in that Katrina did less damage than anticipated to the city. Twelve hundred lives were lost and over 80 percent of the city was under water because of the many years of neglect and gross negligence from the Corp of Engineers which resulted in the disastrous failure of the federally built levees. What happened in New Orleans six years ago was partly a natural disaster, but primarily a man-made one and remains a national disgrace.
I did a lot of praying the past few days as well as I evacuated from my beloved home in O. C. to my home in Baltimore. I so prayed that our beautiful city by the sea, as well as the rest of the eastern seaboard, would be spared major damage from Irene. Many of our most densely populated areas on the east coast were located directly in Irene's path. We in O. C. and other eastern cities can all breathe a huge sigh of relief and should thank our city officials for their efforts to be prepared for the worst and keep us safe as we all hoped for the best.
My oh-so-independent elderly Mom is staying with my son and me as she has no electricity. I'm on a very long waiting list for tree limb removal as I watch a huge 100-plus-year-old oak limb dangle way above my house and hope it doesn't fall before the tree folks get here. David (my son) and I work together to remove the fallen limbs in the back yard. There are few folks driving and everyone is behaving extremely well as we treat each inoperable traffic light as if it were a four way stop sign. Oh, yes, my friends, we did get off relatively easy this time around.
I made a commitment to myself after Katrina to volunteer two weeks a year there for ten years and write about the recovery of the greatest musical city in the world in my opinion. Time is a great healer and much of the devastation has been replaced by renewal. Ned Cheever writes in his column in the Times-Picayune today, "Amid the loss, both of life and chattels, has risen a stronger community, one that has tapped the synergy of outreached hands from near and far. The remaining lives, homes, businesses, monuments, and traditions that have weathered the storm are now seasoned to stand against the next challenge. A testament to the dedication of a people united in their determination to prevail over forces of hardship and detriment, the rebirth of New Orleans represents a massive undertaking by man and machine. Obstacles of nature and government often seemed to resist the progress at every turn, but the task of recovery has been constant and certain. Much remains to be done, but we should celebrate the accomplishments that have borne the fruit of progress. New Orleans has regained its stature and charm, remaining one of America's great cities."
Most of the middle and upper class from New Orleans have been able to return, rebuild and renew. The FEMA trailers are gone; most banks, churches, grocery and drug stores are back in the better neighborhoods. The New Orleans Index at Six annual recovery analysis report states that the school system has 80 new or renovated schools and 68 percent of students attend an academically satisfactory school as compared to only 28 percent in 2003.
It has been much harder for low income folks, especially the black communities, to return home and rebuild. The New Orleans Index at Six study reports blacks earn 50 percent less than white households and Hispanics are 30 percent below white incomes. Pre-Katrina, 40 percent of low income renters paid more than 35 percent of their income for rent. Now 55 percent of poor families pay above 35 percent of their income on the escalated rentals. New Orleans has about 70 percent of its pre-Katrina population, but poor predominately black areas like St Bernard has below 50 percent return rate because the government is rebuilding these areas last and folks can't afford to come home. Each year I am so amazed with the progress and at the same time so astounded by areas still looking like the storm just hit yesterday. Believe me, it's not too late to help. New Orleans still needs volunteers and money. Please come to New Orleans and spend money. Please put sizable tips in local musicians' tip jars. Please enjoy the great music this city has to offer. Get out of the French Quarter and enjoy the music scene on Frenchman Street. Talk with the locals. Take a taxi tour of the areas still totally devastated from Katrina six years later.
I have two books, two documentaries and one CD to recommend to you as we reflect on life in New Orleans. The DVD's are both by Spike Lee and both are available at our library. The first is "When the Levees Broke: A Requiem in Four Acts" and covers pre-Katrina to about eighteen months after the storm. "If God is Willing and Da Creek Don't Rise" is Spike Lee's followup and takes us through the oil spill. Let me quote the back cover of the latest documentary: "Alongside the city's storied ability to celebrate life with unmatched ebullience, Lee documents the successes and failures in the ongoing efforts to restore housing, healthcare, education, economic growth, and law and order to a battered but unbowed community. Through interviews with residents of devastated neighborhoods, "If God is Willing and Da Creek Don't Rise" takes an unblinking look at the resilience, dedication, and perseverance of the people of New Orleans in the face of unprecedented adversity."
John Swenson released his latest book, The New Atlantis; Musicians Battle for The Survival of New Orleans at Jazz Fest this year. Swenson has been an editor at Rolling Stone, Creem and Crawdaddy and has lived in New Orleans since the early '80s. I so enjoy his frequent columns in Offbeat magazine. This book borrows from his columns and focuses on the N'walins musical community from the efforts of Dr. John, Cyril Neville, Tad Benoit, Allan Toussaint and others with the Voice of the Wetlands All-stars' pre-Katrina recording session and ends with these same musicians' despair over the oil spill last year. Alison Febsterstock reviewed the book for Times-Picayune 7/26/'11 and states musicians "struggle in the uncertain post-storm economy to re-establish their homes and livelihoods, to rebuild the cultural climate that nurtured their growth as performers, and in some cases, to get the attention of political powers-that-be. Swenson's recountings are intimate, intelligent and passionate, and most importantly, come from deep in the heart of the battle the title announces." I wholeheartedly concur!
Tune in next week for the conclusion.
«Go back to the previous page.