The Backyard Stage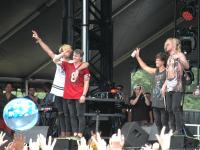 The Griswolds
Halsey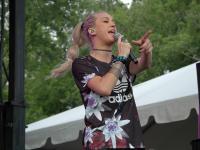 Elliphant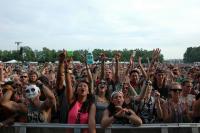 Elliphant fans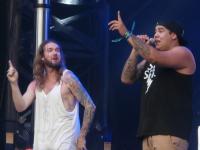 Dirty Heads - Jared (Dirty J) Watson with Rome Ramirez of Sublime with Rome
Saturday was another blazing hot day and although I was starting to get warn out I was somehow magically still energized from seeing Paul McCartney Friday night! Still can't believe that actually happened! I began my Saturday with The Griswolds who played The Backyard Stage at 2:15 pm.
Last year, The Griswolds played on the much smaller Big Break Stage, and unfortunately I missed them. So when I heard they would be playing again this year, I quickly put them on the top of my must see list and I am so glad that I did. They were really fun to watch and it was easy to see how much fun they were having as well.
Chris Whitehall (vocalist), Daniel Duque-Perez (guitarist/keyboardist), Tim John (bassist) and Lachlan Westand (drums) were all born and raised in Sydney, Australia. In 2012 they pretty much launched themselves by releasing their first single "Mississippi," simply by putting it up online and so began the buzz. They quickly released Heart of a Lion, a short EP of four songs the same year and by 2013 they were signed to Wind-up Records, one of the world's largest indie rock labels, and began recording their debut album. Be Impressive was released in August of 2014 and debuted at #197 on the American Hot 200 Albums Chart; and is nothing short of impressive - I love it!
The Griswolds have found a sound they can truly call their own, by blending catchy guitar melodies, electro pop keyboards and anthem-like rockin' drum beats. Their love of American '80s' pop culture is very apparent in interviews I've read and in videos I have seen of them and it even comes across in their music.
Due to some parking complications, I did not make it to see them until their fourth song, which was okay, though, since it happened to be their latest single, "If You Wanna Stay," and it sounded great live! The song is a great new anthem for all the modern day gypsies of the world who just can't stay in one place for too long! (many of whom work at festivals around the world such as Firefly; quick shout out to my friends at Bombey Station)! The chorus reads, 'If You Wanna Stay, I will never miss you while I'm away"! Love it! A brand new video for the song was also just released right after Firefly on June 29 and is quite funny. I have to say, make sure you watch it 'til the end; I personally thought it was very clever and I cracked up laughing!
Next up, they did an amazing cover of Vance Joy's song "Riptide," which I think may have even sounded better than the original, and then they quickly went right into "Mississippi." They ended their set with their two biggest hits to date, "Beware the Dog" and "Heart of a Lion," both of which sounded great. The whole band was smiling and giggling as they took their final bows and they truly seemed to have had a really great time.
These guys were super busy at Firefly, so I only had the chance to quickly say hi, but they did offer to do a quick interview via email for us, so here are just a few things I just had to ask?

Q: What was your inspiration for your very first single, "Mississippi"? Had you ever even seen The Mississippi River?

A: Mississippi was a drunken ad lib lyric; it was the first word that hit the melody when it was sung and it was impossible to replace. But, yes, we've been to the Mississippi River multiple times.

Q: Who are you guys listening to now? What would be your top 10 songs of the summer?

A: "We are pretty eclectic as a bunch; we have varying tastes, but here's my top ten right now."
Flume - "Some Minds"
Kendrick Lamar - Anything off the new record. It's absolutely genius.
Kindness - "8th Wonder Feat. M. Anifest"
A$AP Rocky - "Everyday"
Miguel - "Do You....."
Urban Cone - "Sadness"
Miniature Tigers - "Used To Be The Shit"
Chet Faker - "Bend"
The Internet - "Ego Death"
The MOWGLI'S - "Summertime"

Q: I see that you will be headed home to Australia for a bit in August for some dates with Passion Pitt (who I love). Are you excited for the chance to be home? How long has it been since you've been home?

A: "Yeah, we are so honored to be invited to play on that tour. We are all enormous Passion Pitt fans, and they were a big inspiration when we wrote Be Impressive. So, for us, to be sharing a stage with them and learning from them is an unbelievable feeling for us. We are also really excited to be going home because it's been four and a half months since we've been to Australia and it's going to be great playing on the home turf."

Q: Very excited to see that you are going on tour this fall with New Politics, Andrew McMahon in the Wildernes and Lolo for The Wilderness Politics Tour, presented by Journeys. Besides The Griswolds, of course, New Politics is one of my other current favorite live bands and I can't wait for the tour to come near us in November! Have you all had the chance to meet each other yet?

A: "Yeah actually we met Andrew a few weeks ago at Fuzz Fest and he's a lovely guy. We haven't met New Politics yet, though, and no, we don't know Lolo but hopefully by the end of that tour we will all be besties 4 lyf." (side note: Andrew McMahon in the Wilderness also played Saturday at Firefly.)
I'd like to take just one last minute to say a great big Thank You, to
The Griswolds
for their time and for putting on a great live show at Firefly 2015! Can't wait to see you again in the fall! For more info and tour dates, please visit their website @
blog.wearethegriswolds.com
.
After spending some time cooling off again in the VIP air-conditioned tent and meeting some ping-pong players, I headed over to the Porch Stage to check out up-and-coming artist
Halsey
, who was scheduled at 4:45 pm. This New Jersey native was born as Ashley Nicolette Frangipane and came up with the stage name Halsey as it is an anagram of her name.
She came out onto the stage sporting a whole new look for summer, which surprised me right from the start. Her hair had been dyed a brilliant blueish green, was very long and usually pulled up into wild, baby doll pig-tails. That's what I was expecting; however, she came out with a fresh, super short, sleeked down cut, giving her an entirely fresh new style.
Halsey
has a very strong musical background, having first learned the violin, viola, and cello and then the acoustic guitar, all by the time she was 14. At age 20, she went for it and posted "Ghost" on her SoundCloud account in 2014. The song gained so much attention that she quickly received several offers from different record labels before deciding to sign with Astralwerks. By October 2014, she released her debut EP,
Room 93
, with an accompanying video for each song.
"Hold Me Down," which just released June 2, 2015, sounded incredible live, pounding through Firefly's giant speakers. Halsey had some wicked moves, regularly dropping to her knees and even licking her mike cord at one point during the song. She went into her signature back bend that she holds for several beats, during her performance of "Ghost."
Halsey
was also a bit more political than I had expected, first by speaking out about growing up in a blended household, her father being African-American and her mother white, and she said how cool it is that we live in a world that has become more accepting of all races and of biracial families. "Yes, we still have a long way to go, but look at how far we have already come," she stated at one point.
Before going into her brand new single, "New Americana," she spoke out about living during these changing times and how Delaware is one of many states changing their laws on marijuana. The chorus to the song has already gained a lot of attention, even before the song's official release, reading, "...We are the New Americana, high on legal marijuana, raised on Biggie and Nirvana, we are the New Americana..." The song is expected to appear on her first full length album,
Badlands
, which is scheduled for release on August 28, 2015, through Astralwerks Records. "New Americana," that just dropped today, July 10, is one of four singles that have been released to date. For more info and tour dates please visit:
iamhalsey.com
.
It was super hot out and I was getting pretty tired, so in an effort to reserve my energy for the evening, I just hung around and waited for
Elliphant
, who was the next performer scheduled to appear on the Porch at 6:30 pm. Ellinor Olovsdotter, known as
Elliphant
, is a Swedish singer and rapper who blends electro pop, EDM, dub, dance and rap to make a sound all her own. Though she only hit the scene in 2013, she has already worked with countless artists such as Major Lazor, Skrillex and Diplo.
I had checked out a few songs online beforehand, but her live performance was simply breathtaking! Of course I was right in front of the pounding speakers for most of the show, but it truly seemed a lot heavier than I had anticipated. I really enjoyed hearing the live version of one of her first singles, "Down on Life," released in 2013.
One More
, a short EP, was released in 2014 and in 2015, she first released a new single, "Love Me Badder," and then another album, Look Like You Love It. On June 30, 2015, right after Firefly, she released yet another single, "Best People In the World," which she also performed live for us! I really had a lot of fun and truly enjoyed this high energy show that changed how I hear her music now! For more info go to:
elliphant.com
.
I am sure that many of you have at least heard of the next band on my list, as they have just played here in OC at Seacrets on Tuesday night -
Dirty Heads
. They have already quickly become a local favorite here in OC and it was very cool to get to see them play to such an incredibly large audience at the Backyard Stage. Their set began at 7:15 pm, and they absolutely killed it! Their laid back, rock-rap-reggae sound gives off a perfect summer vibe and even in the heat, everyone was smiling and dancing to their groovy tunes.
They opened up strong with one of their brand new songs, "Franco Eyed," from their latest album
Sound of Change
. The song is just a bit on the harder side of their musical spectrum, but it was the perfect way to get the crowd pumped and ready for a great show. Frontmen Jared (Dirty J) Watson and Dustin Bushnell (Duddy B), who also play guitar, were both very engaging, smiling and dancing all over the stage. Giant beach balls began bouncing over-head as they went through "My Sweet Summer" and "Sound of Change," both of which are from their last album.
Keyboardist and vocalist, Shawn Hagood, percussionist Jon Olazabal, drummer Matt Ochoa and bassist David Foral offer the perfect blend of music to compliment Watson and Bushnell's vocal stylings. The group's debut album in 2008,
Any Port In The Storm
, included the chart-topping hit track "Lay Me Down," which features current
Sublime with Rome
frontman, Rome Ramirez, who joined them for the end of the song! He came out a little late so, Watson put him on the spot and made him join him for one more verse sung a cappella! It was a cool and funny moment and I'm happy to have been there for it!
They are about to kick off a nationwide tour entitled Everything is Awesome with Slightly Stoopid and The Expendables, and are in our area right now! In fact, they are playing tonight, Friday, July 10, at the Festival Pier in Philadelphia, Pa., and July 16 at the Pier Six Pavilion in Baltimore, Md. There are even some separately sold VIP ticket options for this show that include autographs, meet & greets and a whole lot more; and this will be their last date near us for a while, so hurry up and get your tickets now @
dirtyheads.com
.
I had just enough time to grab some dinner and head back over to the Lawn to see Sublime with Rome who began at 9:15 pm. They jumped right in with several Sublime favorites, starting with "Date Rape.' They got through "Smoke Two Joints," "Wrong Way," and "Doin' Time," and then suddenly, Rome Rameriz's mike got cut off. An emergency announcement came over a main loud speaker throughout the entire festival grounds that a severe thunderstorm was on its way and that we were all to seek immediate shelter.
What a nightmare - not only for the poor campers who had their tents and campsites all set up, but for the performers as well. Besides the fact that
Sublime with Rome
didn't even get to any of their new original material, several others such as
Steve Aoki
and headliners
Kings of Leon
didn't even get to begin; but they also had to scramble to get equipment and themselves to safety. It is the first time in Firefly's short history that it has been evacuated and it was just a little crazy, but over all, I have to say at least everyone stayed safe.
I managed to make it out right ahead of the crowd and back to my home base for some much needed rest. It was hard to sleep, however, not knowing what the storm would mean for the last day of Firefly and hoping all the campers were making it through the night safely! Stay tuned next week for one more day of Firefly coverage. See what happens after the storm and what it meant for Sunday's line-up!
«Go back to the previous page.