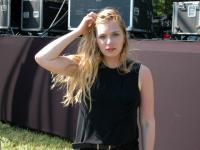 Vérité stopped to say hi!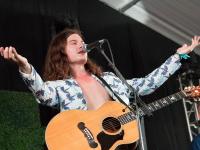 BØRNS - The Coffee House Stage - photo courtesy of StubHub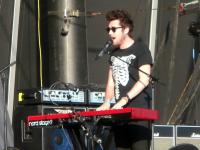 Bastille - Dan Smith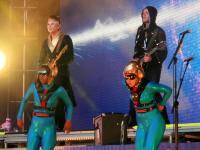 Empire of the Sun - Luke Steele and Nick Littlemore
The Killers - Brandon Flowers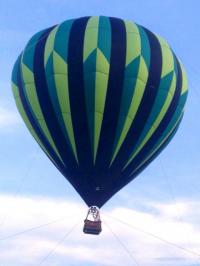 See you next year Firefly!
Note: So sorry folks for being late on getting this one published; however, my computer, with all my Firefly photos, had to make an emergency trip to Tennessee for repair. Now that I finally have my baby back, I would love to share my final day of Firefly with you!
The final day of Firefly, Sunday June 21, 2015, was a complete and total muddy mess! I heard that the evacuation went as well as it could have and that there were no reports of any serious weather related incidents; so overall, everyone seemed to make it through the night okay. However, we all awoke to tons of good old Delaware mud and many areas still puddled. Festival workers were busy dumping mulch and sawdust everywhere they could and they even fenced off some of the worst areas, because after all, the show must go on, right? Of course, it must!
As I mentioned in last week's article, Saturday's performances got cut short due to severe weather and several acts did not get to perform at all. Sublime with Rome only made it through four songs while headliners Kings of Leon, Steve Aoki and The Chainsmokers never even got started. Unfortunately, Kings of Leon was unable to reschedule, leaving fans a bit disappointed; however, Steve Aoki and The Chainsmokers were both able to stick around and they both performed on Sunday.
Steve Aoki went on at 2:30 pm and I heard he drew one of the largest crowds of all at Firefly, which is most impressive considering it was previously an unscheduled set. Anyway, because I didn't know about it, I missed it, but I heard he was quite the maestro, spraying champagne and throwing cake on fans. His biggest fans who knew what to expect were even showing 'CAKE ME' signs and really begging for it! Looked like a really fun time and I am sorry I missed it; however, I did arrive in time for the first act on my list, Vérité, who played the Porch Stage at 3 pm.
Kelsey Byrne, a.k.a. Vérité, is a very ambitious singer-songwriter from Orange County, New York. While working as a waitress at an Applebee's in Time's Square and attending school full time at SUNY Purchase, she self-financed and independently released two four-song EP's in just under a year. Her first EP, Echo, was released October 20, 2014, and featured her break out hit single, "Weekend." The song was first released as a free single on Soundcloud and was quickly picked up by DJ's on Hype Machine. The song became an instant favorite across both sites and so began Vérité's musical career. She has made many 'artists to watch' lists including TIME, Billboard, Spin and Buzzfeed just to name a few, and she seems to be keeping up a strong momentum. Sentiment, was released June 8, 2015, and features one of my new favorite songs, "Wasteland."
Firefly was Vérité's first time playing a big festival and I would say she absolutely nailed it! She had two mic's, one with voice effects, that she strategically switched between while doing lots of jumping around and hair flipping. Her long blonde hair was loose and flowing and she was clad in all black, which may not have been the smartest choice in the hot summer sun; however, she looked very cool in a 'Rebel Without a Cause' kinda way.
After her set, she came down from the stage and spoke with many fans, signed autographs and took selfies with them. She was even nice enough to stop and speak to me for a minute and posed for a quick photo. You can find her on facebook or check out her music at
soundcloud.com/veritemusic
. I am sure that this is only the beginning for this very driven young artist; so be on the lookout for more to come!
Between the heat and pure exhaustion I couldn't make myself do as much as I wanted to on Sunday, but I was trying to hang in there! I did some wandering around The Market, which is an area set up with loads of different craft vendors, including a Toms Shoes tent. I went and checked out the Beercade for a minute and then headed over to the Coffee House to see my new StubHub friends. By then, it was almost time for
BØRNS
, who was scheduled for 5 pm.
Garrett Borns is a very new, very talented, LA based musician, who has just exploded onto the scene and I have become addicted! Borns grew up in Grand Haven, Michigan, where he was a paid, performing magician by the age of 10, which is also when he began piano lessons. He won an art scholarship for college at age 13, and by 19 was living in New York, working to pursue his career. Feeling a bit stifled in the city, he took a vacation to Los Angeles, California, and ended up living for some time in a tree house.
It was in this tree house retreat that he found the freedom and inspiration to write his debut single "10,000 Emerald Pools," released in October 2014, and his first, four-song EP entitled
Candy
, which released in November.
Candy
is a delicious mix of sweet, romantic sentiments, set to very catchy synth-pop beats. Overall, I found it to be a very tasty little gem of an album and I was very excited to see how his acoustic set would sound.
The area was pretty cleared out when I arrived; however, the closer to 5 pm it got, the more people poured in, eventually completely packing the house far beyond view. Borns looked just as tasty as he sounded; wearing only a blazer jacket with no shirt underneath and plain blue jeans. His long curly hair was flowing and beautiful, his smile was infectious and he sounded simply dreamy, with his very impressive, falsetto voice which he has amazing control over. He has a very charismatic stage presence that seemed to radiate from him with a natural ease.
He played an amazing set, but I was just a little disappointed that it was so short. I know that he performed earlier that day on the Porch Stage at 1 pm, so I can only assume that maybe he was a little drained, because his Coffee House set only lasted about fifteen minutes and only included four songs.
He opened with "10,000 Emerald Pools," then went into a very fun cover of Elton John's "Bennie and the Jets," which of course, turned into a giant sing-along. Next up was a mellowed out version of Lesley Gore's "It's My Party," another cover. He closed with my favorite, "Electric Love," and then, he was just gone! Oh well, I guess like the saying goes, 'It was short, but very sweet." I really did enjoy the show, I was just a little shocked at how short it was. I did get to make contact with some of his promo people but he literally disappeared right after his performance.
You can find
BØRNS
on facebook and his music is available on Soundcloud, Spotify and iTunes. There are also several videos up on YouTube and for a great example of his acoustic sound, I would recommend checking out "Electric Love (Acoustic) feat. Zella Day." Very nice!!!
Next, I began the hike over to the Firefly Main Stage for
Bastille
, who was set to go on at 6:45 pm. It was so blistering hot at this point that I went through two bottles of water on the way over and thought I was going to melt. People did not pack in nearly as tight as they usually do and were really just dead on their feet for this one. Lead singer/songwriter Dan Smith tried really hard to keep fans pumped up but the sun was steady baking our brains.
Bastille
is a British indie rock band that really began as a solo project for Dan Smith, who was born on Bastille Day (July 14, a French National holiday). In 2010, he was joined by guitarist Will Farquarson, bassist Kyle Simmons and drummer Chris "Woody" Wood, to form a full four-piece band. So far, the band has released one studio album, three extended plays, ten singles and eight music videos.
They opened their set with "Things We Lost in the Fire," which is from the 2013 studio album,
Bad Blood
. Next, they played "Laura Palmer," one of their very first singles, and then they surprised us with a brand new, unreleased song called "Hangin." No word yet on when this will be released, but I liked it a lot! Eight songs later, they finally played "Icarus," and I for one was simply impressed by how much Smith was still jumping up and down while singing every note and was somehow not out of breath like the rest of us were.
Somewhere in there, Smith also surprised us with a chilled out version of TLC's "No Scrubs." The crowd woke up just in time to dance for, "Of the Night," which is really a mash up song of two '90s hits, "The Rhythm of the Night" by Corona and "Rhythm Is a Dancer" by Snap. It was a really fun song to hear live, and then they went right into "Pompeii," which was their closing song. "Pompeii" has been the group's biggest hit to date. It has earned spots in the top ten positions on charts worldwide, was number one in Ireland and two in the UK.
Overall,
Bastille
put on a great show! I just wish we all had as much energy as Smith did! He was non stop and sounded amazing through every sweaty minute of it all.
Bastille
will be headed back to Europe for a while this fall but for more info, please visit their website:
bastillebastille.com
.
I was so worn out after
Bastille
that I almost didn't go anywhere, but I sucked it up and made myself hike back over to the Backyard Stage for
Empire of the Sun
who began at 8 pm. I was moving slow but I managed to get in position just before the show began, and what a show it was.
Empire of the Sun
put on one of the most theatrical and elaborate performances out of all the acts I saw at Firefly.
It opened with two dancers dressed in giant, space-age looking, gowns that were blown out all around them, and they wore huge head pieces that looked like giant ram horns with neon blue fringe hanging down to the shoulders. They looked insane and this was just the beginning.
Lead singer Luke Steele marched out one step at a time, along with the beat, wearing one of his many elaborate head pieces, a long black trench coat and a huge metallic neck collar, making him look larger than life. Guitarist/producer Nick Littlemore was most mysterious; he never even took down the hood of his black sweatshirt, which was lined with bright silver trim.
This duo is an electronic, synth-pop group from Sydney, Australia. They formed in 2007 and released their award-winning, debut album
Walking on a Dream
in 2008. Since then, the album has gone double platinum in Australia and gold in the United Kingdom (UK).
They opened the show with the very first track on their second album,
Ice on the Dune
, "Lux," which was released in 2013. Their dancers in gowns were joined by others dressed in tight spandex, alien-looking spacesuits. The gowned dancers climbed out of their outer costume to reveal their matching spacesuits, removed their headpieces and replaced them with space-age-looking helmets.
The dancers proceeded to change costumes for every song and had some pretty crazy moves to match! It was all very inspired and I couldn't wait to see what they would do next. The top three songs of their performance were "We Are the People" and "Walking on a Dream," both from the 2008 album
Walking on a Dream
, and for their encore they played, "Alive," from
Ice on the Dune
.
"Alive" also happened to be the track that Red Frog decided to use for their promo video this year!
Empire of the Sun
was everything I thought it would be and more! I am so glad that I made it over to catch these guys while they were in the states. They will be touring out of the country and all over the world for the rest of the year. For more info please visit:
empireofthesun.com
.
Last, but most certainly not least, I trekked back across the venue to the main Stage for
The Killers
' headlining set.
The Killers
were also the headliners at the very first inaugural Firefly Festival in 2012 and they were amazing. The Main Stage was much smaller back then and the crowd was about a third of the size. This year, it was absolutely packed and the crowd was wild with excitement and anticipation. They were scheduled to go on at 9:15 and by 9:20 pm we were all getting very antsy.
Finally, they came running out at about 9:25 and the show opened with one of my favorites, "Mr. Brightside." It was one of their first major hits from their first album
Hot Fuss
, which was released in 2004. I can't believe that was eleven years ago already and I am so glad to see that these guys are still killin' it! They made it through a very difficult time in music and have managed to stay on top while many others faded out.
The group is a Las Vegas-based rock band that first came together in 2001. Being from Las Vegas, Nevada, they were no strangers to a life filled with extravagant live performing arts of all kinds, including music, of course. The release of
Hot Fuss
was an overwhelming, international success and since then, the group has released three more chart-topping studio albums, a compilation of b-sides and rarities, a live album,
Live from the Royal Albert Hall
(2009), and one greatest hits album. They have performed in more than fifty different countries and are still headlining sold out shows in huge arenas worldwide. Their current line-up includes Brandon Flowers (lead vocals, keyboards), Dave Keuning (guitar, backing vocals). Mark Stoermer (bass, backing vocals) and Ronnie Vannucci Jr. (drums, percussion) and together they sounded amazing live!
After engaging the crowd for a moment with hello's and how are you's, Flowers pronounced how awesome it was to be back in Delaware and how he was celebrating his birthday with all of us again. The crowd went into yet another giant, sing-along of 'Happy Birthday!' and then Flowers took his place at his keyboard, which now is adorned with a giant white light-up 'K,' transforming it into a podium-like position. After thanking everyone for his birthday wishes, he went right into "Spaceman," which is a hit single from
Day & Age
, their third album, which was released in 2008.
They played many songs from
Hot Fuss
but they also included a few surprises: for Kings of Leon fans, they performed two cover songs, "The Bucket" and "Use Somebody;" and for some of us older fans, it was awesome to hear their version of Creedence Clearwater Revival's "Bad Moon Rising;" and they gave us a two-song encore including "This Is Your Life" and "When You Were Young." Overall it was great to get to see these guys again. Not sure when there will be another chance; the only date listed this year is for the KAA BOO festival in September in San Diego, Calif. For more info please check out their website @
thekillersmusic.com
.
It was another amazing day after an amazing weekend, and unfortunately I was just too exhausted to stick around for the closing acts, but I heard both of them were amazing. The
White Panda
were scheduled to wrap things up, as always, at the Backyard Stage at 10:45 pm and
The Chainsmokers
played their rescheduled set at 11 pm on The Pavilion Stage to finish out the night.
So all said and done, even after four years and seeing
Paul McCartney
, I just still can't believe such an amazing event has come to little old Dover, Delaware. Kudos yet again, Firefly, this year was incredible as always! The first batch of pre-sale tickets have already sold out for next year with no word yet on when the next batch will be available, so just keep checking back at
fireflyfestival.com
. Hope we see you all again next year!!
«Go back to the previous page.