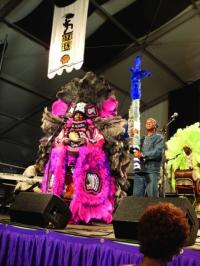 Indian Gerald French with "Spy Boy" at filming of HBO show Treme – the supreme compliment you can give an Indian is to say, "ain't he pretty!"
At the Olivier House on Toulouse St. in New Orleans – long-time staffer Debbie, owner Catherine Danner & son Bobby.
Oscar Donahue, in the French Market, displays his colorful collectible pins – all "Oscar Originals."
Editor's Note: For those of you, like me, who would love to be at the annual New Orleans Jazz Festival, or if you've never been, read on for Tish's experiences and music reports and we'll imagine ourselves there.
Geese Louise do I love New Orleans. I got a direct flight on Southwest and was thoroughly entertained by flight attendant Debbie. She was a middle-age unremarkable looking blond. And then she opened her mouth – she could hold her own with the best of standup comics - her one liners were hysterical. I arrived Tuesday and as I stepped off the plane, I felt like I'd come home. Last Saturday I had a chat with my buddy John LaMere and he told me he had never been to New Orleans. Well John and all you others who haven't been to the Big Easy, just let me warn you about this place. It gets in and under your skin and takes hold of your very soul.
I took the shuttle to The Olivier House Hotel on Toulouse Street just off Bourbon Street; it's a delightfully quiet oasis from the Bourbon Street crowd. The Olivier House was built in the early 1800's and maintains the authentic old New Orleans charm and character. I first stayed at Olivier House in 1988 when my son David was just over a year old. I can still see my little whirly bird in his green French Quarter T-shirt jumping on the bed. It was our first visit back to New Orleans since his dad had moved from New Orleans to Baltimore in '86.
The Olivier House is by far my favorite place to stay. Owner Catherine Danner, her son Bobby and her staff are warm and most gracious folks who make me feel like I'm a guest in their beautiful home. For the past few years I've stayed in room 105 with the courtyard out my front door and pool just outside my bedroom window. Long-time hotel staffer Debbie greeted me with "just wait till you see what we've done with your room". The bath was totally renovated and looked fit for royalty.
After unpacking and settling in a bit, I made a bee line for The Gazebo – an outdoor café on Decatur that always has good music during the day. I sat at a nearby bench in the adjacent park (Latrose Park) and listened to a wonderful band that included Gerald French on drums (Charmaine Neville's long-time band mate) and his daddy George French on bass and vocals. I knew I was back in New Orleans chatting with two members of the famous French family. Gerald's uncle is drummer Bob French who was one of my favorite DJs on WWOZ and has led the Tuxedo Jazz band since his daddy, the beloved banjo player and band leader Albert "Papa" French, died in '77. I feel most blessed to have been so well entertained over the years by three generations of this most musical family. But hey – that's part of what makes New Orleans so special; the music of this city in all genres is handed down and passed along from generation to generation and is a most precious gumbo of sounds and songs to please your very heart and soul.
Let me give mention to another favorite performer who plays weekends and Mondays at the Gazebo. That is Jimmy "Bean" Ballero. Do you like Fats Domino, Earl King and other great New Orleans legends of Rock and Roll? Then you'll love Jimmy's trio. Jimmy has a really nice voice and is a great guitarist who has played with many of this city's best including the Neville Brothers, the Meters, Dr. John, Irma Thomas – need I say more!
I poured through Off Beat and Where magazines as well as Gambit and Where Y'at weekly papers to see what all was happening. Oh, if only I could be in 20 places at one time. The days of listening to music all night long for days on end are as long gone as my waist line. I've now got to pace myself and carefully select my events as well as be open to just letting it happen. Life is truly good folks – especially in the Big Easy!
The French Market is just beyond the Gazebo and park. I pop about the French Market most days to pick up fruit, find treasures and chat with local vendors. I always look forward to chatting with Oscar Donahue. I've been collecting Oscar's metallic resin pins and earrings since the '90s and get compliments every time I wear an Oscar Original. It's become like a cult thing: I see people everywhere I go wearing his whimsical, colorful creations and we say to one another "Like your Oscar"!
www.oscrofneworleans.com
I went to the Jazz Fest fair grounds today as an extra for the HBO award-winning show Treme based on life in New Orleans post Katrina. Treme is shooting scenes to reenact the '07 Jazz Fest which we today referred to as Tremefest. Keep your fingers crossed for me that I'll be in an upcoming Treme show in about 10 weeks. Gerald French was in the final scene we shot today. He is part of the Donald Harrison show and performed in his Indian costume. Take a look at Gerald: my, isn't he pretty! Treme is a great series airing on HBO 10PM Sundays. Well, that's about it for this first N'walins article. I'll be writing lots more about Jazz Fest and other New Orleans adventures in the coming weeks. Ta Ta Y'all!