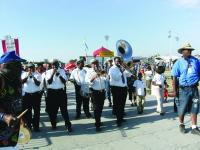 One of the many wonderful brass bands parading around the grounds of Jazz Fest.
Jazz Fest is for all ages. This elderly couple from Paris, France attend each year and are often found dancing at the Economy Hall tent early in the day before the floor gets too crowded.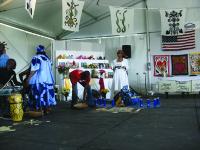 Vodou ceremony at Haiti Pavilian
Richard and Lunise Morse of RAM. Richard's brother is President Elect of Haiti.
Many more seasoned travelers than I agree that Jazz Fest is the greatest music and cultural event in the world. The annual festival started 42 years ago as a free festival held that first year in Congo Square with perhaps 300 attendees. Year two and on, the festival has been held at the 145-acre Fair Grounds Race Course; the third oldest race track in the US. There are 11 stages of music plus the Alison Minor stage hosting interviews with our most beloved musicians. And if that's not enough, there are Brass Band and Mardi Gras Indian parades throughout the grounds.
Now, you probably want to hear about the big shots that performed at Jazz Fest this year. This year's official Jazz Fest poster was of Jimmy Buffett who closed at the biggest stage the second Saturday. Jimmy Buffet got his start as a street performer in the French Quarter in the '60s and now fills amphitheaters. Lauren Hill also performed during this time slot but I chose to hear Aaron Neville at the gospel tent. Other headliners included Gregg Allman (rock/blues), The Avett Brothers (folk rock), Ahmad Jamal (jazz), Aejandro Sanz (latin), Arlo Guthrie (folk), Arcade Fire (indie rock) and that's just the A's folks. I won't go through the entire alphabet but just also mention Fantasia, Bon Jovi, Cyndi Lauper, John Legend, John Mellencamp, Tom Jones, Wilco, and Willie Nelson. These were the acts I missed as I chose to hear others during the same time slots. The only big names I heard were Jeff Beck (The Yard Birds) and Robert Plant (Led Zeppelin) and his Band of Joy. Beck was even better than I had hoped and Robert Plant's voice is just amazing. He's given up the Zeppelin screaming vocals and now does some of the Zeppelin tunes with his beautiful voice. I only stayed for half of his show as I wanted to go to the 20th Annual Jazz Fest Shabbot at the Touro Synagogue on St. Charles which featured Irma Thomas, Panorama Jazz Band headed by Annapolis-born Ben Schenck, The Wild Magnolia Mardi Gras Indians with Big Chief Bo Dollis, Marcia Ball and others.
Now, that's the thing about coming to Jazz Fest – you'll hear great music the entire time yet know you're missing lots of other great acts performing at the fest and elsewhere in town at the same time. When you attend Jazz Fest, you are hearing less than 10 percent of what's happening musically at any given time at the Fest and you know it's all good. Ah, decisions decisions – such a delightful problem to have. What truly sets Jazz Fest apart from all other music festivals is that 85 percent or more of the acts are local and provide the heart and soul of this fabulous festival. The music of New Orleans in all its genres has a special sound all its own, whether it's traditional or modern jazz, N'walins funk, Latin, blues, gospel, rock, Cajun, zydeco, R & B, soul, folk, hip hop or pop. The late Alison Minor who helped start Jazz Fest, said Jazz Fest, "is a reflection of what the world needs to know about New Orleans music".
Jazz Fest often celebrates the music and culture of a foreign country. This year Haiti was chosen, as the Fest provided the largest celebration of Haitian culture in the states since the devastating earthquake nearly eighteen months ago. The Haitian Pavilion provided the setting for Haitian artists to display their crafts. This is where I got to see Haitian drumming and dancing and witness a vodou ceremony. In the picture you will see one of the drummers dropping sand from his fingers to make beautiful pictures and designs as part of the beginnings of the vodou ceremony. Haitian musicians performed at many stages throughout the festival. I so enjoyed the interview with Richard Morse and his wife. Richard Morse heads the Haitian band RAM and is the brother of Haiti's president elect.
Oh, I've so much more to share about this year's Jazz Fest. Next week I'll write about my favorite local music acts. Careful now, I just might cast a spell on you so you'll join me at next year's Jazz Fest.
«Go back to the previous page.