Vince McCool (on trumpet), Joe Smooth (sax), Ron Pucino (guitar) & Bobby Wilkinson (guitar) collaborated for a fantastic day of music at Coconuts Beach Bar & Grille.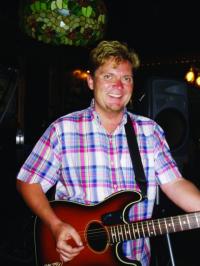 Michael Tracy "BoomBoom" White – gone but not forgotten.
Old School welcomed Ron Pucino to sit in on guitar at their recent gig at Smitty McGee's.
Ocean City's extraordinary musical bonds -No Byscuyts guitarist Howard Wimbrow along with Ron helped fellow musicians in Old School.
Remembering ...
Michael Tracy White with Ron Pucino's Story

Ocean City is well known for its fine beach and beautiful boardwalk. Not as well known but also a true treasure is the musical community in our fair city by the sea. Most all of our musicians possess a boat load of talent and are always there for one another and support our city both on and off season. This spirit influences our out-of-town musicians as well. Just this week members of the Ray Pittman Project (Richmond) and Arizona (Memphis) jammed with one another during their gigs at the Clarion.
Just a few weeks from now will mark the fifth anniversary of our dear friend Michael Tracy White's untimely passing from this world. This past Monday was Michael's birthday. Yes my friends, we still remember our friend and his influence lives on in oh so many ways. This article will demonstrate one gift Michael left us; that is vacationing guitarist Ron "Maddog" Pucino.
This time eight years ago Ron Pucino and his long time lady love Kim decided to vacation for the first time in Ocean City. They came to Coconuts Beach Bar & Grill for lunch and some music. Michael happened to be playing that day with Joe Smooth. Michael noticed Ron was wearing a guitar shirt and asked him if he played. Ron said yes. Michael then asked Ron if he had his guitar with him. Ron said it was in his car. Michael asked if Ron could play the kind of music he and Joe were playing and Ron said absolutely. Michael asked Ron to get his guitar and join them. Ron had a blast playing a few tunes and started to leave the stage. Michael said words to the effect that "hey Ron - you're not going anywhere but right here man" and the rest is history. That day Michael Tracy White and Joe Smooth opened the door to our wonderful musical community to Ron and he has returned each year to our fair city and has a blast taking a "Busman's holiday" playing with many of our local gracious and talented musicians.
I believe I was at Coconuts when Ron first played with Michael and Joe. Since that time I've seen him join in with Joe Smooth and others and think "oh yeah - that guy from New York is back - we're in for a treat today!" Ron can really play the guitar my friends. He also plays sax, clarinet, bass, drums, keyboards, mandolin, steel guitar and banjo as well as sings. My challenge to Ron next year is to bring some of his other instruments along with his guitar.
Ron and Michael Jackson were born in the same year and began their careers around the same time. We've all heard of the Jackson Five. New Yorkers know all about the four Pucino's. That's right - Ron had his first professional gig at age five playing with his twin brother and his older brother and sister. The family band members are self taught and still playing. Later in life, Ron did study guitar with Maestro Louis Garcia Renart and played with the Mid Hudson Philharmonic Orchestra. Ron enjoys playing all forms of music including classical, flamenco, jazz, blues, rock, country, etc.
Ron took a five year leave from the New York school system to work in Nashville. While there, he was a demo and session musician for all the record labels in Nashville. He also rubbed shoulders with Alan Jackson, Vince Gill, Garth Brooks and other famous country musicians. Ron was a member of Ricky Skaggs band during this time. Today Ron has a studio in his home and records the back tracks he uses as he performs his solo act singing and playing guitar live.
Now Ron just loves our fair city and its talented musical community. What two words does Ron have to say about our musicians? They are polished and welcoming. Ron has so enjoyed playing with No Byscuyts, Full Circle, Bob Wilkinson and Joe Smooth; I've had the pleasure of catching these special shows. Earlier this week I chatted by phone with the lovely Linda Sears from Old School. Their guitar player Paul Bono had serious health issues and Ron and Howard Wimbrow (No Byscuyts) filled in for Paul last Saturday night at Smitty McGee's. Ron said he had a fabulous time playing with Howie and Old School and the evening was most successful. Linda told me "you know we're all in our fifties, and there were a large group of folks in their twenties who were blown away with us." I'm happy to report that Linda said Paul is feeling much better and making a speedy recovery. I look forward to seeing Paul back with Old School very soon! I also want to send my very best wishes to Michelle Schachter of Full Circle and hope she returns to full health soon. Our musicians work so hard over the summer and the pace can take its toll.
I guess my favorite show was Monday at Coconuts. Vince McCool (Tear the Roof Off and Slim to None) showed up with his trumpet to join in with Joe, Bob and Ron. Wow was it ever awesome. I thought to myself, what a wonderful tribute to Michael Tracy White on his birthday - good deeds do live on. And isn't it something that this would be the day marking Kathy Mathias's departure from this world. Kathy and Michael were about the two kindest and most gracious people I ever met and both will live on in our hearts and this city's history. Ron, we look forward to seeing you again next year!
«Go back to the previous page.