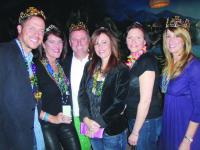 Support the events of Parrotheads Mardi Gras court: Dr. Todd Bescak, Tammy Patrick-Cebula, John Barrett, Kathy Denk, Tara Gates & Buddy Trala, represented by wife Christy. Monies raised will benefit the P.J. Aldridge Foundation & Worcester County Youth and Family Counseling.
For Tickets or more information
on the OCPHC Mardi Gras Carnival on March 25th
Tara Gates
• Friday, March 18
JC's Northside Pub, 127th St. & Coastal Hwy., 5-8 pm. Entertainment: Harry O at 7 pm. $5.00 donation at the door. One raffle ticket for the three AWESOME prizes picked through-out-the night-must be present to win. Kick off the weekend with Mardi Gras twist; 50/50 raffles, door prizes.
Tammy Patrick-Cebula
• Galaxy 66 will be replacing all the pictures on the Star Wall. You can have your picture featured on the Star Wall. They will be selling the photos for $300.00/each. The cover will include Parrothead Club, PJ Aldridge Foundation and Worcester Youth & Family Counseling Services. The purchaser can have as many people as they would like in the photo and put any message they would like on the cover. Business names can be included also. Galaxy 66 will do all the design work and photo session will be scheduled. The pictures will remain on the wall at Galaxy 66 for a minimum of 1 year. Get your friends and schedule a photo shoot today.
Contact:
tammy@galaxy66barandgrille.com
Office: 410-723-6762 Cell 302-236-9643
• Friday, March 18
Ocean City Prom Nite. Seacrets Nite Club, 7-12. Several businesses will nominate a King/Queen candidate. Winners crowned "Business" King/Queen. Music by Mr. Greengenes. Complimentary food. $30 pp; $35 at door ($30 w/ donated pj's).
Buddy Trala/Tammy Cebula
• Sunday, March 13
Irish Christmas Bull Roast. Micky Fins, Ocean City Fishing Center, West Ocean City, 2-6 p.m. Music, Bull Roast with all the trimmings, 50/50s. Advance Ticket Sales Only $30 each.
Contact: Buddy Trala at Sunset Grille for more information 410-213-8110.
Kathy Denk
• Friday, March 18
Independent Tattoo/Rte 54, 5-9 p.m. $50.00 Tattoo by artist
Contact:
Kathy@kathydenk.com
• 410-251-3004
John Barrett
• Saturday, March 12
Sinatra At the Globe/Steve Flynn. The Globe, 12 Broad St. in Berlin. $20.00 per person for ticket (completed donation to the charities).
www.flynnatra.com
. 1st. seating 5 pm, show 6-7:30 p.m. 2nd. seating 8 pm, show 9-10:30 pm. Guest may purchase dinner and drinks. Globe will also be open to the public all evening. 100 Tickets will be sold for $25.00 for a trip to St. Marteen Contact: The Globe for reservations 410-641-0784
«Go back to the previous page.