"Brave" came in 2nd in the 9 – 11 large group category at the Starpower Battle of the Stars.
Dancers with awards standing outside the convention center.
"Paula" captures 1st place in its category at Starpower's Battle of the Stars.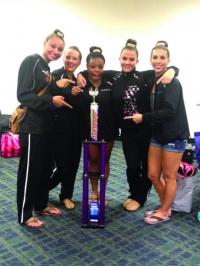 "Hanging On" came in 2nd at the Battle.

Last week I attended the 27th annual Starpower National Competition for Dance held at the convention center. All the competitors had to place at a certain level at one of the regional competitions to be able to compete at this world championship event.
Maryland's own Gary Pate is the Chief Executive Officer of Starpower National Talent Competition. This is the 27th year for Ocean City hosting this event. Gary established the Starpower National Talent Competition in 1988 and has built this competition into one of the largest and most prestigious competitions in the U. S. I hope our renovations of the expanding convention center will allow for raised seating to better accommodate viewing for a large audience at the main stage (first floor this year) and that the stadium seating will be available for viewing the smaller adjacent stage. My only major complaint over the years is it's disappointing that you can't see dancers' feet or floor moves unless you stand at the side lines
Grace Wakefield is also Chief Executive Officer of Starpower. She has a long and remarkable lifetime in the dance world and has choreographed many musicals including: Pajama Game, Damn Yankees, South Pacific, Wizard of Oz, Bye Bye Birdie, Oklahoma, Guys and Dolls, Fiorello, Wish You Were Here, My Fair Lady and many others.
It was great to see Chuck Crist, National Director, back this year. He missed coming to O. C. last year because his Dad died the morning of the '13 Battle of the Stars competition. Chuck wore suspenders at the Battle of the Stars competition Thursday (7/24) in honor of his Dad stating, "it felt like Dad was hugging me all day." Among his other duties, Chuck emcees the Battle of the Stars which showcases the best dance performances of the week. It's an honor to make it to the O. C. Starpower National competition, and an even greater honor to be selected to compete in the Battle of the Stars. This final day is the icing on the cake as the best performances are given the opportunity to WOW us once again and we get to see the Power Pak team perform. Dancers from the competition audition for Power Pak and learn the routines in their "spare time" at free classes at the competition.
Our area was represented by several troupes including X-Squad from Selbyville, Del., and Crofton, Md. I'm delighted to report that once again X-Squad made it to the Battle of the Stars competition the final day where the best of the best compete. They had ten dances in the Battle which included a total of 84 routines. Perhaps my favorite dance of the whole week was entitled "You're Never Alone." It was a lyrical number in the 15 to 19 year old small group category. The dance was dedicated to Erin Vitalos who is currently undergoing chemo for breast cancer and looks so beautiful in her long dark hair wig. This dance brought back memories for me when I too sported a beautiful long hair wig while battling cancer in '05. Erin Vitalos started X Squad in Crofton in '07 with just seven dancers. This company then opened a studio in O. C. the following year and later moved the eastern shore studio to Selbyville. The other two owners of X Squad are Devon Cooper and Erin's Mom, Cheri Demko.
Another favorite X Squad routine was "Proud River"; it came in second in the 11 and under small groups category and also won an award for choreography. Their large group production number entitled "Paula" (Abdul music) came in 1st place at the Battle of the Stars for 12 to 14 year olds in that category. I adored the lyrics, choreography and dancing to "Brave" which came in 2nd in the 9 to 11 large group category. The dancers also dedicated this number to their beloved Miss Erin. The Adele song, "Hanging On," placed 2nd in the 12 to 14 small groups routines at the Battle. Yeah, X-Squad!
Cheri Demko says X Squad provides a fun, supportive and positive learning environment for its dancers of all ages, experience levels and interests. Both locations strive to bring out the very best in each dancer. They offer classes in classical and contemporary ballet, hip hop, tap and acro. Their "Clarity" number from the Battle for 12 to 14 small groups had beautiful costumes, music and dancing. If you missed this at the convention center last week, you can see this dance on the Lifetime TV series entitled "Dance Moms" this fall when Abby Lee Miller's girls compete against X Squad in a competition in Woodbridge, Va. Can't wait that long – then see X Squad dance at Freeman Stage on August 21 as part of "Locals Night."
I know where I'll be July 18 to 22, 2015 – glued to a seat at the Convention Center for next year's competition. So if you too love dance, put next year's date on your calendar and join me for a marvelous week of dance, dance, dance! Can't wait that long? See ya at Freeman Stage. Call X Squad for more info on their studios: 410-474-4995.


«Go back to the previous page.