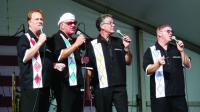 The Diamonds sang "Little Darling" and other favorites.

Lauren Glick and the Moodswingers - our current "Entertainers of the Year" - entertained us well at the fest.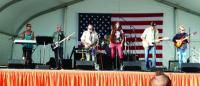 What fun seeing Billy Carder and the rest of the Teenage Rust musicians.
O. C. Recreation Line Dancers gave a fine show.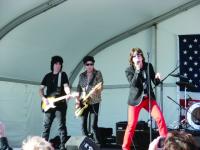 Is it really Ronnie, Keith and Mick - Satisfaction International - Rolling Stones tribute band.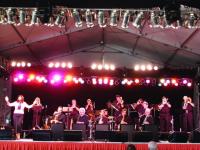 Delmarva Big Band - WOW - fabulous show.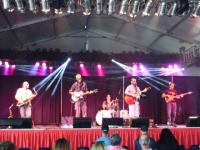 Poole & the Gang never sounded better - terrific show!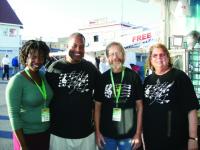 Jarlin, Chester & Georgie - marvelous artists at Sunfest with me, wearing shirts designed by Georgie.
It's the first weekend of fall; it's Sunfest. YEAH! This year marks the 38th year of Sunfest and I never remember more perfect weather. Nice breeze and when you sit to watch and listen to the outside band, the sun is hot on your back. Ah – just delightful!
I had friends Sharyn and Tom Pokorny staying with me the first two days and we had a blast. Thank you Tom for coming to the rescue the first day with your fine photos as I forgot to charge my batteries. We had such fun singing along to most every tune the Diamonds played and as we were leaving the indoor tent from their first show, Sharyn remarked "Look around – remember when we were the young ones here?" Yes, I was an adult when Sunfest started so you know I'm no spring chicken.
It was absolutely fabulous to see the Diamonds return this year. I so missed them last year and hope they will be a permanent feature at Sunfest. They remain my favorite nonlocal group. They had two new members who just fit in perfectly – the harmonies were barbershop at its finest. Ah "Little Darling" remains one of my all time favorite songs.
Sunfest has some local musicians who perform year after year. Randy Lee Ashcraft definitely has seniority here and rightfully so as he always delivers a fun filled show. Tommy Edward with his Sir Rod act and Teenage Rust also delight us year after year. There were oh so many Teenage Rust fans in the audience sporting their back stage passes and we were all thrilled to see Billy Carder and the rest of the crew rock out with abandon. I so hope that twenty years from now, Billy and the rest of the Rusty Teens will still be rocking us out at Sunfest! We missed Tommy Edward as we headed to MR Ducks for dinner and to hear Nate Clendenen with Johnny Suit, Darin Eng, and a terrific fiddler from Va., Nate Leath. Oh my, they were marvelous!
The only local group on Friday was Poole & the Gang. My-oh-my did they deliver a fine performance beginning with "Take a Load Off Fanny" and ending with the Stones "Missing You". Kevin Poole's gang includes many of O C's finest musicians: Joe Mama on drums, Jeff Davis on bass, John Remy on guitar and Joe Smooth on sax. I can never get enough of Joe who also plays with Teenage Rust as well as his own band, No Byscuyts. We enjoyed a bonus round of Poole & the Gang later that day at M. R. Ducks.
I was thrilled to see Lauren Glick and the Moodswingers perform at Sunfest this year but how about Tranzfusion, No Byscuyts, Opposite Directions, Full Circle, Jim Long, Chest Pains, Electric Company, Dave Sherman, Harry O – these are just some of our local musicians who have been around for a good while and have a strong fan base. We need to support our musicians at Sunfest – they play an important part in our culture and they deserve a place at our festival! I would also like to suggest that there be individual onstage signage for each show.
Speaking of Lauren Glick and the Moodswingers, last Saturday night at Smitty McGee's Coconut Times owner Brenda Golden presented the group with her annual "Entertainers of the Year" award. I was so thrilled when she told me her choice for this year as Lauren, Mike Armstrong, and Bubba have been delighting us for two decades and the new bass player, Ted, is a wonderful addition to the group. Look for Brenda's article about these most talented musicians in an upcoming issue. These fine musicians gave a stellar performance at Sunfest!
Next up on Sunday was the Delmarva Big Band which included five saxophones, five trumpets, five trombones, guitar, bass, drums and vocals by Pam Miller. They started off with Louis Primo's "Jump, Jive & Wail" and this just set the tone for a great show. Jim Miller was featured on the trumpet for W. C. Handy's St. Louis Blues; this is a favorite of mine and Jim was quite amazing. Frank Mahoney is the onstage musical director for the group and educated the audience about each piece. I so enjoyed the tribute to Marvin Hamlisch who died last month. The band played a medley of Hamlisch tunes including "Memories", "Chorus Line" and "What I Did for Love". Mahoney informed us that Marvin Hamlisch was one of only eleven artists to win every kind of award given for the arts. Pan Miller, Jim's lovely wife, sang a number of tunes including another favorite of mine, Peggy Lee's "Fever". Chris Levy, the bass player for the band, is the son of the drummer on the original recording of "Fever". I also really enjoyed Pam's version of "All That Jazz". The audience so loved this tune that someone way in the back of the tent yelled out "do it again" when Pam finished and everyone laughed and applauded. After the show she told me that she is performing a Roaring Twenties show at the Cultured Pearl during Rehoboth's upcoming Jazz Fest.
Satisfaction - the International Rolling Stones Show - ended Sunfest performing so many of my favorite Stones tunes. What fun - what a great ending to a fun-filled four day event!
I must give mention to the dancing at Sunfest. I have a number of friends who take part in the Ocean City Recreation Dancers; they put on a fun show Thursday after many long hours of practice. There were many outstanding hand dancers dancing at most performances at the outside tent; they were really fabulous and reflect how important dancing is becoming in our society. Hand dancing has become so popular that when Chubby Checker's "The Twist" was played, no one twisted – everyone jitter bugged to this number. I had to laugh! I really enjoyed watching an elderly man slow dance with several ladies and was told he was a mere one hundred years young. WOW! I hope I'm still a dancing fool at that age.
Sunfest claims to be ranked the number one arts and crafts festival in the nation. My favorite vendors at the festival remain Chester Allen (award winning New Orleans sterling silver jewelry designer) and Georgie Lehoop with his drum art. I had a good laugh Sunday when I saw that Chester was wearing the same shirt as me; we both bought the same shirt last year from Georgie Lehoop. I went to get Georgie Lehoop for a picture with us and found he too was wearing the same design with a bit more color. How funny is that! Jarlin Johnson is the other lady in the photo. She is Chester's assistant this year and her Mom is one of my dear New Orleans Jazz Fest volunteer friends. What a small world! I also have to give hats off to the Humane Society for their expanded offerings this year– I just love my blooming air plant in a sea shell!
As for the food at Sunfest, I was so disappointed that The Hot Belgian did not return for a second year.They are a Baltimore based company selling the best Sundaes I've ever had. Sure hope they return next year. Every year I complain about the food at Sunfest as most of it is way over priced for the portion size and much of it just tastes mediocre at best. For example, why would I pay $7 for sweet potato fries (two venders at Sunfest) when I can get a large basket of the best sweet potato fries at Coconuts for $4. The Wraps from Just Wrapped were delicious and well worth the $7. I also enjoyed Terizaki Chicken and Lo Mein from the Oriental-Bowl and the onion rings from the O C/Berlin Optimists Club were yummy.
Please let me conclude by stating that each day of Sunfest '12 was such fun; I'm marking my calendar for September 19-22, 2013, for next year. Thanks, Ocean City, for this wonderful event!


«Go back to the previous page.