Sunfest vs. Jazzfest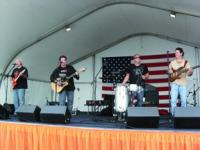 Local band Crowded Outhouse rocked the outdoor stage at Sunfest.
The Hot Belgian, fresh waffle with Haagen-dazs ice cream, made by a family from Baltimore, is my new favorite at Sunfest.
Angelo and his heavenly Chocolate Chocolate Eclair at Jazz Fest.
This past weekend marked the 37th Annual Sunfest in Ocean City. I believe I may have attended every single one and the only one that was canceled was when hurricane Hugo was supposed to raise havoc but fortunately totally missed us. It's been many years since I've attended Springfest as I'm in New Orleans attending Jazz Fest.
Jazz Fest began in 1969 and has never been canceled; it was quite an achievement to hold Jazz Fest the spring after Katrina. Jazz Fest is like the last hurrah before the too too hot summer arrives and tourists as well as many locals head to cooler climates. Sunfest marks the end of the busy summer season for us and the beginning of our second season. I totally love both festivals and the summer season in Ocean City between these fun fests.
Both festivals started off on a small scale and have grown considerably over time. I well remember Sunfest with just one stage and you could go right up on stage to dance. Jazz Fest began in Congo Square with one stage and then moved to the race track fairgrounds and now has ten stages for music. It always runs Friday through Sunday the last weekend of April and Thursday through Sunday the first weekend of May. Admission is $50 at the gate, less for advance tickets. Many national acts are brought in to attract a huge attendance. My favorites this year were Robert Plant and Jeff Beck. Of course Sunfest week started off with Kashmir (Led Zeppelin Tribute band) playing at the Purple Moose. Kashmir's Jean Violet so looks like Plant in his younger years and does a brilliant job of imitating him.
However, Jazz Fest knows the importance of promoting the local culture and flavor of New Orleans so perhaps 85 - 90 percent of the acts are performed by local musicians and these are the acts I'm attracted to the most. Many of the locals come back year after year after year and we'd be mighty upset if they didn't! I'm speaking of folks like The Neville Brothers, The Radiators, Pete Fountain, Banu Gipson, Charmaine Neville, Dr. Michael Smith, Coco Robicheaux, Bryan Lee, Germaine Bazzle, Thelonious Monk Jazz Ensemble, Dukes of Dixieland, Preservation Hall Band, Ingrid Lucia, Tab Benoit, Donald Harrison, Ivan Neville's Dumpstaphunk, Jon Cleary, George Porter, The Subdudes, John Mooney, Irma Thomas, The Dixie Cups, Terrance Simien, Rockin' Dopsie Jr., Trombone Shortie, James Andrews, Glen David Andrews, Allen Toussaint, Dr. John, Joe Krowm, Walter "Wolfman" Washington, Little Freddie King, J. Monque' D, Big Al Carson, Guitar Slim Jr., Anders Ousborne, Leah Chase, Kermit Ruffins, Big Sam's Funky Nation, Ellis Marsalis, Irvin Mayfield, Henry Butler, Treme Brass Band, George French & the New Orlean Storyville Jazz Band, Bob French & the Original Tuxedo Jazz Band, Phister Sisters, Topsy Chapman, Tim Laughlin, New Orleans Cottonmouth Kings, Paul Sanchez, Cowboy Mouth, Astral Project, Terrence Blanchard, Deacon Jones, Big Chief Bo Dollis & the Wild Magnolias, and Big Chief Monk Boudreaux represent just a few of the regular local musicians who bring pleasure each year to locals and folks from all over the world.
Sunfest has some local musicians who perform year after year. Randy Lee Ashcraft definitely has seniority here. I know he's had regular spots at Sunfest for over two decades. I can just picture our forever handsome Randy back in the day with that long ponytail and cowboy hat. Tommy Edward with his Sir Rod act and Teenage Rust also delight us year after year. This year Tommy had back problems and missed the show - we sure hope he's on the mend and feeling better! Michael Tracey White always has a spot at Sunfest. Since his passing, Kevin Poole and the Gang have stepped up to the plate and delivered an awesome show dedicated each year to Michael. That's about it for our regular locals and I think it's a real shame! I was thrilled to see Crowded Outhouse perform at Sunfest this year but how about Tranzfusion, No Byscuyts, Opposite Directions, Mood Swingers with Lauren Glick, Full Circle, Jim Long, Chest Pains, Electric Company, Dave Sherman, Harry O - these are just some of our local musicians who have been around for a good while and have a strong fan base. We need to support our musicians at Sunfest - they play an important part in our culture and they deserve a place at our festival! I've frequently written about this and hope we can add a small third stage where the folks from Guatemala used to play for a number of years. We could have our single, duo and trio acts there and rotate the nonlocal acts that have performed every year at the other stages to make room for our larger local groups.
Now let's talk about the food. The food at Jazz Fest is the best I've had at any festival, bar none. I don't think you will find French fried potatoes anywhere at Jazz Fest and if a Jazz Fest vendor does have fries, I can assure you they don't cost anywhere close to $7. I so look forward each Jazz Fest to feasting on pheasant, quail and andouille gumbo - tagine of lamb - grilled veggie pita - Minnie Pearl's sweet potato pie - Pat Gallager's crab cakes and baked pecan catfish meuniere - cochan delait - trout baquet - artichoke & spinach dip - oh I could go on and on. The serving sizes are ample, prices are most reasonable and the food is top quality! I have always loved satisfying my sweet tooth with Angelo's brownies and macaroons; this year I tried for the first time his divine chocolate éclair filled with chocolate custard - big enough for two but so good you won't want to share a morsel!
You be the judge on how Jazz Fest food compares with Sunfest. I must say I've always enjoyed whatever wrap sandwich I've gotten from Just Wrapped. My favorite food from Sunfest this year was a Sundae from The Hot Belgian. These folks are from Baltimore and served the sundaes in freshly made Belgian waffle cups. You know how humid it was this weekend. While I waited for my sundae to be made, I noticed that the woman in charge of making the waffles threw out several as they felt too limp. Haagen-dazs ice cream was used for the 3 scoops and you had no limit on the amount of syrups, nuts and toppings. You had a choice of 5 syrups, 6 different nuts and 13 other toppings including fresh blackberries, blueberries, raspberries, strawberries and bananas. I so enjoyed a berry delight on my sundae which made me feel a bit less guilty with my food selection.
As for crafts, Sunfest claims to be ranked the number one arts and crafts festival in the nation. I'm not sure about that my friends. Everytime I wear something I got at Jazz Fest I get lots of complements. My favorite vendor at both festivals is Chester Allen's Elemental Designs; I bought a sterling silver musical pendent at Jazz Fest and the matching earrings at Sunfest. My favorite new vendor at Sunfest is Georgie Lehoop's Drum Art. Georgie says "Rhythms - earth rhythms, ocean rhythms, lunar rhythms, nocturnal rhythms, anhient rhythms, When I hear the waves pounding a shore, I hear rhythms - the wind, crickets, a grouse drumming, bees buzzing, horses running. Rhythms have surrounded me my whole life. Some people march to the beat of a different drummer. I am a different drummer. My art is a merging of music and painting. It is expressed by dipping my drumsticks into paint and then playing a rhythm on a stretch canvas!" Both Lauren Glick and I purchased shirts from Georgie Lehoop. He also paints on audio recordings - very cool!
I love both festivals and think it's great that ours has remained free (except for evening shows costing up to $55) and is so easy to get to if you take the express bus from the convention center.
«Go back to the previous page.