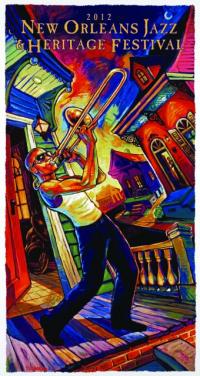 The official 2012 New Orleans Jazz & Heritage Festival silk-screen poster is published by art4now inc. TM & ©2012 N. O. Jazz & Heritage Foundation, Inc. All rights reserved.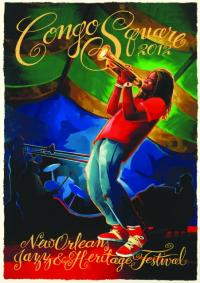 The official 2012 New Orleans Jazz Festival Congo Square silk-screen poster is also published by art4now in (888-art-4-now, 504-733-3332, www.art4now.com) ©2012 art4now inc. TM N.O. Jazz & Heritage Foundation, Inc. All rights reserved.
Woops – catch anything funny about last week's article? Here's what happened. I Cced Brenda Golden on my e-mail to Art4Now to get permission to print the photos of this year's posters. I included the article I wrote in '09 so the Art4Now folks would remember me and know I was legit. Brenda thought it was my current article. Oh my - _ _ _ _ happens.
In last week's column on Jazz Fest, you read that Troy Andrews, better known as Trombone Shorty, was the musician selected for the Congo Square poster in '09. Terrance Osborne created the '09 poster along with Phillip Frazier (Rebirth Brass Band) '07 poster and Uncle Lionel Batiste '10 Congo Square poster. The artist and musician selected each year for the Congo Square poster represent emerging talents where as the official Jazz Fest poster features artists and musicians who have truly risen to the top of their field. Well, my friends, both Shorty and Terrance Osborne have grown tremendously in the last few years so it's most exciting to have them as this year's official poster. Jazz & Heritage web site states "The two talents twinned on this year's Jazz Fest poster ascended from "promising" to "established" so rapidly that their accomplishments demanded timely recognition." What a well deserved honor for both of them!
I provided lots of background on Osborne and Shorty which I won't repeat in this week's column. Just let me say this about Terrance Osborne. He continues to have a booth at Jazz Fest each year and is just a delight to talk to. I danced with "Uncle Lionel" when I first visited New Orleans in the '70s and again in '10 at the Economy Hall tent. I just adored the rendition of Lionel Batiste for the '10 Congo Square and Uncle Lionel just had a blast showing up all over the place and taking delight as folks recognized him as the poster guy.
This year's Official Jazz Fest poster of Shorty is perhaps Osborne's best yet. I just love that Osborne painted Shorty blowing his horn on the steps of his Treme home since both artist and musician were born and raised in the Treme. Take a look at the battered tuba in the house. This is so typical for homes in Treme to have lots of instruments and Shorty plays Tuba, Trumpet and a boat load of other instruments in addition to the Slide Trombone. Osborne titled this work "Porch Song".
Now what has Shorty done since '09? Well, for starters, his album Backastreet won him a Grammy nomination and a slew of international tours, TV appearances and a gig at the White House. He takes an instrument which isn't seen much today (and when seen is usually in the background) and brings it front and center. Shorty has become perhaps the most famous Trombone player in history. This breakthrough album shows America and the world that New Orleans, the birth place of Jazz, is alive and well and soaring in many new directions musically and what an exciting ride. Troy Andrews takes his classical training and street performer experience and shows an explosion of new original sound that's so mighty pleasing to behold. No wonder he received this year's "Best Male Performer" at the Big Easy Music Awards. So thrilled that I got to see him on many stages at Jazz Fest, caught his show at the Louisiana Music Factory and at several benefits I attended this past trip including the New Orleans Musicians for Obama benefit.
This year's Congo Square poster musician is Trumpeter Shamarr Allen who just turned 30. I first met Shamarr in '07 when he was playing with Bob French's Original Tuxedo Brass Band. Mr. French told me that Shamarr's family lost everything to Katrina and that his child's Mother died in the storm. Shamarr's lifelong best friend, musician Dinerral Shavers, was senselessly shot to death one night while driving home from a gig in '06. And here was Shamarr, starting over from scratch and raising his young son. Needless to say, I was very touched by Shamarr's story and wanted to help.This very proud young man would not accept financial help from me but thanked me for enjoying his music and supporting his city. I have so enjoyed watching Shamarr's career take off since our first meeting.
Shamarr's Dad played a Louis Armstrong record when Shamarr was just seven and Shamarr said, "Dad, whatever he's playing, I want to play that." And so it began. Soon after, world renowned trumpeter Kermit Ruffin took on the roll as mentor to Shamarr and I often see Kermit sporting a huge grin at Shamarr's gigs. Prior to joining Bob French's band, Shamarr was a member of Rebirth Brass Band as had been Kermit. Rebirth won a Grammy this year and is the only New Orleans brass band to win a Grammy.
About this same time that Allen left Rebirth, Paul Sanchez left Cowboy Mouth. Both musicians had a need to do things on their own their way. They met at Louisiana Music Factory and have formed such a close bond that they refer to one another as "Uncle" and "nephew" despite the color difference. Sanchez and Allen are both so talented song writers. Allen joined Sanchez's Rolling Road Show and is one of my favorite acts each year at Jazz Fest. Paul Sanchez states, "Shamarr is one of the most exciting and charismatic musicians to emerge from the New Orleans music scene since the flood, or at any time in recent history…When he plays his horn, heads turn. He has a natural and engaging stage presence…I also like to hire him because he is young and sexy, and I get to be old and sagelike and leave the young and sexy to him."
Shamarr's debut album in '07 was well received and titled Meet Me on Frenchman Street. Shamarr was not about to be pigeonholed as a traditional jazz musician so his next CD, Box Who In, just veered widely in all kinds of directions including rap, pop and rock. His next album was entitled Bridging the Gap with Paul Sanchez where each sang songs from the other's era to ­– you guessed it – bridge the gap. Shamarr's latest CD is entitled 504-799-8147. It's all original and the title is really Shamarr's phone number. My favorite cut is "Sorry Ain't Enough" about the Golf Oil Spill by BP. Here's some of the lyrics: "Sorry don't clean the spill or save the lives you killed…How does it feel to have men's blood on your shirt/or put a whole industry out of work?"
Yes, Shamarr is quite a talent. He has toured with one of his favorite songwriters - Willie Nelson. Recently he was named U. S. Cultural Ambassador (like Louis Armstrong) and toured Kazakhstan and Kyrgystan (formerly part of the Soviet Union). Allen has twice performed for Obama and played at the New Orleans Musicians for Obama benefit I attended in May.
The past few years I've volunteered in the Congo Square area and prepare breakfast for the venders. What a delight to meet both of this year's poster artists! Carl Crawford is a young artist from South Carolina who has exhibited in Congo Square for Jazz Fest the past few years. Crawford received Best in Show and Most Unique art awards in 2010 and 2011. The poster of Allen looks like an oil painting, but it's not. Crawford created this magnificent collage using carefully hand-cut color shades from old magazines and finely gluing them to glass to provide the image of Shamarr Allen performing at the Jazz tent at Jazz Fest. Wow – how unique and creative!
The posters are still available for purchase. These two so complement one another. What about it folks?


«Go back to the previous page.