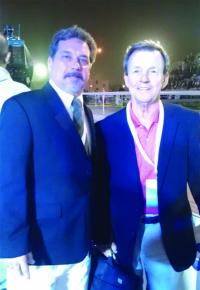 Bob & Fred at the race where Oscar Pastorius (the double amputee Olympian from Australia) ran against a horse and won.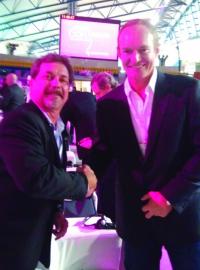 Bob with Francois Pienaar of South Africa who was the inspiration for the movie "Invictus."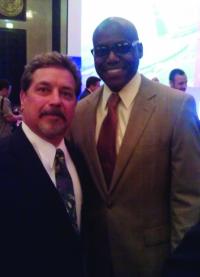 Bob & Sports Illustrated's "Sportsman of the Century," Carl Lewis.
Being a contractor and a musician I never would have believed that I would be having the kinds of experiences that I have had since the passing of my son, Sammy Wilkinson in 2003. Since then, with the help of my father--in-law Fred Engh and his association with the National Alliance for Youth Sports, we formed the Sammy Wilkinson Memorial Foundation dedicated to providing sports equipment to children around the world and in the U.S. as well; particularly in our hard-hit disaster areas.
Representing this foundation I have been privaleged to travel to many countries where we have seen first-hand the great need of these children. It's been a joy to see the smiles on their faces when they receive much-needed equipment for many different sports.
In early December Fred, considered the number one go-to guy in the youth sports world of the USA, was invited to the Doha Goals Forum, a gathering of sports leaders from around the world that took place in Doha, Qatar. I had the great opportunity to accompany him as his attache.
There we had the chance to hear speakers from all over the world such as former President Nicholas Sarkoszy of France, Carl Lewis, H.E. Ali Bongo Ondimba, president of Gabonese Republic, Ian Thorpe, the Australian Olympian swimmer and other past Olympians talking about all aspects of sports from youth and on through to professional sports as well. The impact of some of today's professional sports heroes was discussed and how their stance as role models effects our young people. Also discussed was the general impact of sports as life lessons for these kids and how sports participation helps them in day-to-day life in areas such as teamwork, following rules, self-discipline, perseverance and mutual respect for their teammates and coaches.
Speaking of Carl Lewis, he was recently named Sports Illustrated's "Sportsman of the Century" for his track victories which earned him several gold medals. He has long been an advocate for youth sports as he feels strongly that there are lessons to be learned that guide us in everyday life. His was the kind of message we were hearing from all the speakers.
I have to say that traveling to the Middle East was a bit daunting; I didn't know what to expect. But when we got there everyone was treated like royalty, respect given to all walks of life, irregardless of color or status. I met Sheiks, Presidents, Olympians, many athletes, both women and men - all treated equally.
On the bus back to the hotel one day we struck up a conversation with two Jordanian female athletes (soccer players) who represented their country at the talks. They spoke of the Sudanian refugees in their country, many of them orphaned children, and how much they wanted to establish a soccer program for them. Of course, lack of equipment was the drawback. Fred and I just looked at each other - a shared thought. As it has so many times on these trips, Fred and I were reminded that Sammy seems to send us where there is a need. We felt blessed that we could promise these ladies that we would follow up and make sure these children receive the sports equipment they so desperately need. Also interesting was learning that one of these ladies spearheaded a movement with FIFA to allow them to wear their traditional muslim head dresses on the soccer field, which before had been against the rules and prevented them from playing. This is just one example how, as we travel to different countries, we meet people who are also passionate about how sports in childrens' lives makes such a difference.
Another cool experience was meeting some people from Africa who had received equipment from our foundation, some of it coming from donations right here in Ocean City. It was gratifying to receive their thanks and learn how much these donations mean to these people and how it has literally changed the lives of kids in these countries. At our annual Jam For Sam in July we see the videos but it just doesn't compare to actually meeting the people who share their stories with us and express their thanks personally. It all comes full circle, it seems - giving and receiving.
The speeches we heard from these prominent world citizens of different cultures and social status and speaking different languages were so inspiring, clearly illustrating that we are all saying the same thing; we all have the same human desires and needs. If we can help our kids now, they will grow up to be better adults and leaders, and will perpetuate their experiences to their kids.
I would have to say the highlight of the trip for me was the awesome speech given by Fred Engh (my father-in-law) that received thunderous applause; and what followed. Carl Lewis, Olympian legend, ran down the aisle to talk to Fred and asked him to wait 'til after his speech so they could exchange information and work together in the future. He was that impressed with Fred's speech saying, "that's the exact message that I have been trying to get across since I've been here and you said it exactly." Hopefully he will become a spokesperson for us such as Cal Ripken has done in the past. These are the role models that we want speaking for the foundation and for the betterment of children around the globe.
Needless to say, I am extremely proud of Fred, of the work he does, and what Sammy's foundation is doing for the children of the world.
International Alliance for Youth Sports (IAYS)
www.iays.org
A division of the National Alliance for Youth Sports (NAYS)
www.nays.org
«Go back to the previous page.