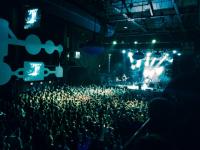 X Ambassadors at the Electric Factory in Philadelphia.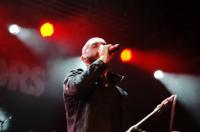 Sam Harris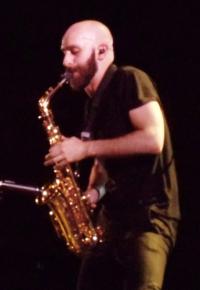 Sam Harris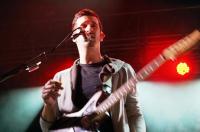 Noah Feldshuh
Noah Feldshuh
Noah Feldshuh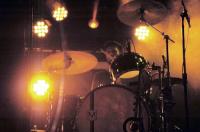 Adam Levin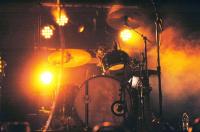 Adam Levin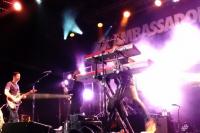 A small glimpse of Casey Harris, who was very hard to photograph!
Kevin Garrett threw his hat on to the head of super fan Dylan for this quick pic!
X Ambassadors with super fan Dylan!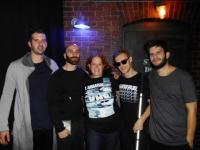 X Ambassadors with super fan ME!
Hello readers out there in Coco-land. I finally had some free time to get back out there and actually have some fun. This last Sun., Oct. 24th, I took a lil' day trip up the road to the Electric Factory in Philadelphia to see one of my new favorite bands,
X Ambassadors
. What an amazing night, I had so much fun, my (face) cheeks are still sore from the perm-a-grin I have had plastered on my face all week! I arrived to the area around 5:30pm and there was already a line forming at the door which was not set to open until 6pm. I decided to go walk around and find dinner instead of standing in line but, by the time I got back, the place had completely filled up.
The first opening act was
Kevin Garrett
, a super young, super new, super sounding musician. This 24 year old is originally from Pittsburgh, Pa., but has spent the last few years honing in on his sound, living and performing in Brooklyn, N.Y. He has shared the stage with such artists as James Vincent McMorrow and Norah Jones, among others.
Garrett
just released his debut EP
Mellow Drama
, which is already getting a lot of attention. His sound is very 'Mellow' but his lyrics are that of a poetic 'Drama,' just as the title suggests. It really could not have been more appropriately named. His performance was short but strong and we had a chance to say hi to him as he was packing up outside! No release date as of yet but he is currently working on a full length album, so we will be on the look-out.
Next up, was the lovely and super talented
Skylar Grey
, who was even more amazing than I had hoped. Grey has been making a name for herself across all genres, having dabbled in everything from folk and pop to hip-hop and even rap. She gained a lot of recognition in 2011 when she was nominated for writing the hit song "Love the Way You Lie," which was made famous by Eminem and Rihanna. Their version of the song reached number one across 26 different charts and was nominated for four different Grammy Awards. In 2012, Grey recorded a stripped down version for her fourth EP,
The Buried Sessions of Skylar Grey
, that features just her and her piano and is simply lovely.
Grey
and
X Ambassadors
are currently signed to the same label, KIDinaKORNER, which is owned by multi platinum producer, Alex de Kid. This is probably what led to her collaboration with Sam Harris of
X Ambassadors
for her latest single "Cannonball." The song just released on Sept. 25th and has a great video available on You Tube that we also have featured under their tour ad on our website. I was happy to see that Harris did come out and join her to perform the song near the end of her set and it was amazing! Overall, she gave an incredible performance and it was great to see her live. She has a very dynamic voice and I would highly recommend checking her out.
We all patiently waited while the stage was broken down and set back up again. Then suddenly, the crowd seemed to push forward and magically double in size right before
X Ambassadors
appeared. It was as though the crowd was somehow
that
tuned into the band or perhaps it was the venue; either way it was interesting to see and nice that the place filled up for the show. Lead singer Sam Harris was out first and the crowd went wild as the rest of the band took their positions.
Things really seem to be taking off for these guys since the release of their debut album,
VHS
, on June 23rd, which was right after we saw them last at this year's Firefly Festival, 2015. The first single they released off the album, "Renegades," was quickly picked up by radio stations and television commercials. As fate would have it, Jeep Wrangler also had just released their new Jeep 'Renegade' so the song was a perfect match for their ad campaign. The song knocked Walk the Moon's hit song "Shut Up and Dance," out of the number one spot on Billboards Hot Rock Songs chart and has helped the album reach platinum status in Canada so far.
They opened their set with two songs from the new album, "Loveless" and "Hang On." Both songs are a bit milder and more soulful sounding than the rest of the album; however, it seemed to be the perfect way to warm up the crowd who were captivated and chanting along by the middle of "Hang On." Next up, they played one of my absolute favorites, "Love Songs Drug Songs." It was the first song that I had ever heard by them, and I was hooked!! It appeared on their second EP of the same name and was released back in May of 2013. I can't remember when or how exactly I came across it, but I do remember they were on my list to check out at Firefly 2014. I did see a little of their set that year but I failed to write about them; so, when I saw their name on this year's line-up, they made it to the top of my must-see list and they were incredible. To read more about their performance at Firefly 2015, check out my review that was published back in June @
http://www.coconuttimes.com/articles/Special-Features/Firefly-2015-Thursday-part-1
.
Lead singer Sam Harris is a very talented musician who has an amazing voice and also happens to be able to play the piano, guitar, bass, saxophone, drums and at one point, he even pulled out a harmonica. He was super fun to watch as he constantly moved around the stage singing, dancing and switching between instruments. Keyboardist Casey Harris is truly a pleasure to watch on the stage. Though he has been blind since birth, he has become one amazing musician and has found a performing style all his own. He really lets it all go; stationed behind his keyboards, he never stops dancing and moving ferociously along with the music, giving every song his all! He seemed to be feeling every minute of the whole experience in a bigger and deeper way than most could probably understand and his happiness seemed to radiate out through every keystroke.
Casey is the older brother of Sam, who have both known guitarist Noah Feldshuh since Sam and Noah shared the same kindergarten class. In many interviews I have seen of them, the three of them have all said that they always knew they wanted to be in a band and that they always knew they wanted to get out of their small hometown of Ithaca, N.Y. They met drummer Adam Levin while attending college at The New School, a university in New York City, and have been a tight group ever since. This closeness is very apparent while they are performing; you can see the way they all feed off of each other, pushing one another past their limits, which overall, makes for one very impressive show.
X Ambassadors
are also becoming known for finding lots of ways to connect with their fans and they have made tons of special appearances along their travels. The video for their hit song "Renegades" features people with disabilities who, like Casey, are overcoming the odds, which is really what that song and much of their album is all about. I was happy to read on their insta-gram page that, earlier that day, they stopped by the Children's Hospital of Philadelphia to wish one lucky girl a very happy birthday. It is inspiring to see how their music is reaching so many different kinds of people and helping them to overcome whatever they may be dealing with!
The crowd went nuts as Sam sang, "I wanna be "Naked" with you," a song that is really about letting go of insecurities and just being your raw 'naked' self! Then he dedicated the song "Gorgeous" to all his Philly fans and we all just lost it again! I didn't think the crowd could get any more worked up; and then they played "Renegades" and O My Goodness, the energy that exploded was enough to electrify the whole darn factory! LOL!! I had an opportunity to say hi after the show and I have to say that they really are the nicest group of guys ever. I asked them if they remembered seeing me at Firefly and they very nicely replied Yes, and excitedly went on to say that, "Firefly is our favorite festival ever, hands down." Laughing and smiling, Casey quickly went into the story, stating how "it was such a crazy blur this year. We flew into Dover and arrived just an hour before we had to be on-stage and then this electrical storm was coming so everyone had to scramble to get the equipment packed up and get us back to the Hotel. It all happened so quick but it was so much fun."
The VHS tour is their second headlining tour and has been selling out dates across the country. The tour continues through December and then they just announced that they will be opening for Muse on the Drones North American tour. The closest dates to us are at the Wells Fargo Center in Philadelphia, Pa., on Jan. 31 or the Verizon Center in Washington, D.C. on Feb. 1 2016. Tickets are on sale now and these shows will most likely sell out so I would highly recommend buying yours today! It was also recently announced that they will be performing at this years VH1's Best Music of 2015 concert, which will air live on Nov. 12th @ 9pm. For info please visit:
xambassadors.com
«Go back to the previous page.