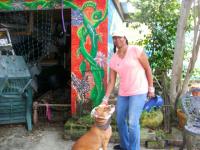 Charmaine Neville and her dog, King, in her back yard by the fence she painted after Katrina depicting the flood line and all she saw from her roof top during Katrina.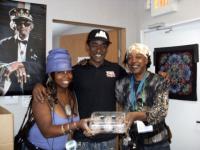 My bosses Princess Camarian and Carl surround movie actor Dwight Henry as he drops delicious Buttermilk Drops and other delights to our trailer where we prepare breakfast for the vendors in Congo Square at Jazz Fest. Dwight, who donated his goodies to us each day, is executive chef for Wink's on Decatur St.
Little Freddie King and me after his show at Louisana Music Factory. Look close at my shirt and you'll see Freddie's picture as he was featured on this year's French Quarter Fest T-shirt. The ever dapper Freddie was also on the cover of the Jazz Fest brochure this year.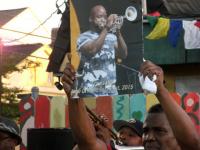 A fan holds up Travis "Trumpet Black" Hill's photo from his performance at Jazz Fest this year at the second line help to honor this fine musician who left us way too soon.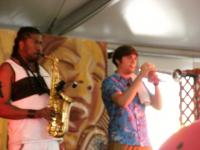 Sax genious Khris Royal shares the stage with NOCCA student John Michael Bradford. NOCCA (New Orleans Center for Creative Arts) celebrated its 40 anniversary.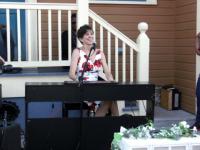 Marcia Ball and many other piano greats tickled the ivories at the opening and dedication of the Professor Longhair (Henry Roeland Byrd) museum in his home where he lived from the late seventies until his death.

Hurricane Katrina and the breakdown of the poorly constructed levies resulted in flooding of over 80 percent of New Orleans late August of 2005. Katrina's aftermath left 1800 dead, 200,000 homes damaged or completely destroyed and the city suffered $135 billion in losses. At that time, I made a commitment to myself that I would volunteer at the New Orleans Annual Jazz and Heritage Festival for ten years. It's all about survival and renewal. At the time I was in the middle of Chemo treatments for breast cancer and my friend Rockin' Jake from New Orleans was so supportive to me as his bride (Kristie) of less than a year was about a month ahead of me with her chemo treatments.
Jake and his New Orleans band stayed with me over Labor Day weekend of '05 as they were scheduled to return to Coins for the big weekend thanks to then O. C. Mayor Jim Mathias who brought Rockin' Jake and his band to OC. Michelle Schachter organized the first OC Katrina benefit for that weekend and John LaMere sold Rockin' Jake's last band T-shirt for $500 at the event. Jake and Kristie lost everything from their Rampart Street apartment in the French Quarter and Kristie ended up finishing her cancer treatments in Texas because no one was allowed to return to New Orleans for a good while after Katrina. They were never able to return to live in New Orleans, but Jake still plays there whenever he gets the opportunity. Unfortunately, both Jim Mathias and I had to miss Jake's recent show in OC last month due to health reasons, but we will definitely see Jake when he next plays in our fair city.
That first Jazz Fest in '06 will always hold a most precious place in my heart. Musicians Charmaine Neville and Marcia Ball convinced me that I must go back home and tell people what I saw and witnessed in NOLA (New Orleans, Louisiana) so I took up (editor/publisher) Brenda Golden's offer and began writing for the Coconut Times. The whole reason I began writing articles about New Orleans was because I wanted to keep our readers informed about our sister city and its musical community. I wanted us to remember that we are just one hurricane away from similar devastation and I don't want us to ever go through what the good folks in New Orleans experienced with the hurricane and more importantly with its aftermath.
So what is it about the New Orleans Jazz & Heritage Festival that makes it the best in the U. S. and sets it apart from all the other music festivals? I don't have words but anyone attending realizes the uniquely wonderful feel of the fest. It's a special place to have fun with family and friends while indulging the senses with the best in food, music and crafts. I started attending the fest in the '80s and took an 18-year break to raise my son. After the storm (everyone in N'awlins refers to Katrina as "the storm"), I decided I had to return and help out. Ten years later I just treasure all the wonderful memories I've accumulated and fabulous new "Fest" friends I've made from all over.
Jazz Fest has 12 stages for music to suit close to half a million folks of all ages and backgrounds from around the world who make the annual trek to NOLA for the Fest. The internationally known acts this year included The Who, Keith Urban, Wilco, John Legend, Jimmy Buffett, Tony Bennett, Lady Gaga, Delbert McClinton, Widespread Panic, Alison Krauss, Chicago, Jerry Lee Lewis, Elton John, Gwen Stefani, Ed Sheeran, Buddy Guy, Christian McBride, Lenny Kravitz, Steve Winwood, Taj Mahal, Cassandra Wilson and a host of others. Of course all my favorite internationally renowned "locals" with deep NOLA roots were there as well including Dr. John, Allen Toussaint, Irma Thomas, Sunpie (Bruce Barns), Big Sam. Trombone Shortie (Troy Andrews), Glen David Andrews, James Andrews, Charmaine Neville, Aaron Neville, Ivan Neville, Anders Osborne, Marcia Ball, Dr. Michael White, Preservation Hall, Jon Cleary, Irvin Mayfield, Tim Laughlin, Big Chief Monk Boyudreaux, Rebirth Brass Band, Bonerama, Tom McDermott, Susan Cowsil, Ed Volker (Radiators), Amanda Shaw, John Mooney, Panarama Jazz Band, Beausoleil, Little Freddie King, Bryan Lee, George Porter, Khris Royal, Paul Sanchez, Kermit Ruffin, Big Freeda, Kidd Jordan, Ssasha Masakowski, Ellis Marsalis, The Meters, Tab Benoit, Nicholas Payton, Terence Blanchard and oh so many others.
Did I fail to mention your favorite at Jazz Fest? If so, I do apologize but there's just so much great music in that town and folks returning home to play the Fest. I had the pleasure of seeing Travis "Trumpet Black" Hill perform with The New Birth Brass Band on Congo Square Stage the first day of Jazz Fest. Unfortunately, we lost Travis the last day of the Fest. He had just arrived for a tour in Japan and died from an abscessed tooth that was no doubt triggered by the long flight. Travis was just 28 and is survived by his musician cousins Troy (Trombone Shortie), James, and Glen David Andrews. So much talent in one family! I joined the second line street parade for Trumpet Black held in the Treme neighborhood my last night in NOLA and so realize the importance of treasuring each moment!
Jazz Fest's Executive director, Quint Davis says, "The festival started out to be the world's greatest backyard barbeque, an indigenous self-celebration by a culture … then at some phase it was to promote and celebrate the culture annually and bring it forward. Now, two or three generations later, it is a cultural institution." When discussing Jazzfest heading towards its fifth decade Quint states, "Think of how society has changed, culture has changed, the economy has changed, how music itself has changed. That says something about the eternality of roots music and New Orleans music and culture." Davis goes on to state the fest is still a "handmade festival – the food, the signs, the food booths, it's not slick. It's still charming. It's folksy, but underneath is one of the most complex infrastructures you can imagine. And it runs on time. We have hundreds of New Orleans bands starting and ending on time. Think about the miracle of that."
I say this every year and will say it yet again. My only major complaint about Jazz Fest is that I can't split myself into several selves so I don't miss a thing! Just so many tough decisions as to who to see and who to postpone for another time. Most all the music is fabulous! I really enjoyed the NOCCA Tent. NOCCA is the wonderful music magnet school in NOLA that has past graduates including Wynton, Branford and Jason Marsalis, Donald Harrison Jr., Terence Blanchard, Trombone Shortie and so many others. NOCCA is celebrating its 40th anniversary, so the Fest honored the school with a special tent for the fest. I've known Sax player Khris Royal (Dark Maters) since he was a student at NOCCA and so enjoyed all his shows at Jazz Fest this year. During his show in the NOCCA tent, he had his girlfriend's brother play with him. This young man's name is John Michael Bradford and he plays trumpet and piano among other things. John Michael Bradford is a 2015 grad of NOCCA and I'm betting he will really go places in the music world.
Would you like to read about what's happening with the various NOLA folks I've written about over the past ten years? Drop me an e-mail at t.michel@juno.com. If I get a bunch of responses, I'll fill you in with a "then & now" story. Till then, support live music, my friends, and treasure each moment!


«Go back to the previous page.