NORTHERN IRELAND
Posted On: 2/16/18
Written By: Sean Rox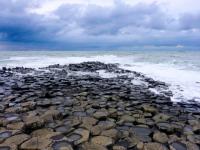 Welcome to Northern Ireland! This year Cassandra and I visited the stunning Antrim Coast of Northern Ireland. During our research we discovered that Ireland and Northern Ireland are two completely different countries – and they haven't been on the friendliest of terms the past few decades. Northern Ireland is part of the UK, is mainly Protestant and is loyal to England. The Republic of Ireland is Catholic and rejected England's influence and sovereignty. The Easter Rebellion of 1916 was the beginning of a long struggle for independence from England. In 1948 an Irish Republic was formed in the south. Northern Ireland remained under British control. 1968 marked the beginning of "the Troubles" – a religious conflict that claimed nearly 4,000 lives. A peace wall was built to divide the Catholic and Protestant neighborhoods. Tourism opportunities finally brought stability. The ...
» Click here for the full story.
Dublin, Ireland
Posted On: 1/5/18
Written By: Sean Rox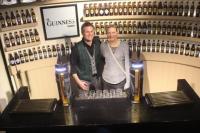 Slainte! Welcome to Dublin, Ireland. Cassandra and I took a mid November trip to Ireland's capitol city. Upon our arrival, we checked into the Westbury Hotel overlooking Grafton St. Dublin's premier shopping area, Grafton St. was bustling with a mix of early Christmas shoppers, street performers, pub enthusiasts and wide-eyed tourists taking in the sights. Our room looked right across this car-free promenade and directly at the ornate façade of St. Ann's Church. After check-in, our first stop was the infamous Temple Bar pub district along the River Liffey. The River Liffey flows through the heart of Dublin and exits into the Irish Sea. We took a few pictures of the famous Ha'penny bridge that spans the banks of the river before following the music to the pubs. Temple Bar is the liveliest neighborhood in all of Ireland. The most famous pub in Temple Bar is aptly named "The T...
» Click here for the full story.
Washington DC
Posted On: 1/20/17
Written By: Sean Rox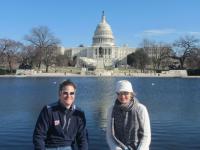 Welcome to Washington DC! This year Cassandra and I spent some time during the Holidays in the festive metropolis of our nation's capitol. It would take weeks to see everything this dynamic city has to offer. We covered as much ground as possible during our two night stay. We wanted to make sure we had a great location so we could walk to many of the main attractions. We decided on the W Hotel on 15th St. Known as the Washington Hotel since 1918, this iconic building was bought by Starwood Resorts in 2008. The closest hotel to the White House, the Starwood is home to the iconic rooftop POV bar that offers amazing panoramic views of the U.S. Treasury, White House and Executive Building. We were overjoyed with our 9th floor suite that looked out over the National Mall and the Washington Monument. Our first stop was to get some lunch at Old Ebbit Grill. Es...
» Click here for the full story.
View All Archives
RSS Feed