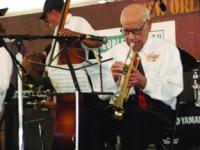 Lionel Ferbos performing at Jazz Fest.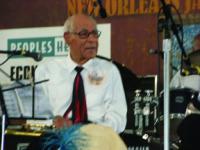 Turning 100 this Sunday, Lionel Ferbos is still performing at Jazz Fest.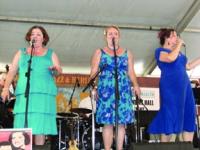 The Phister Sisters at Jazz Fest paying tribute to Beth Boswel of the Boswel Sisters on her 100th Birthday.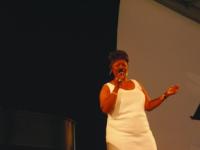 Jazz Fest always features a number of tributes each year to music icons on the hundredth anniversary year of their birth. However, I don't ever recall a tribute being given to a musician while he's still alive and actively pursuing his profession. Thatss right my friends, let me tell you about trumpeter and vocalist Lionel Ferbos who performed with the New Orleans Ragtime Orchestra the first Saturday of Jazz Fest, and the Palm Court Jazz Band the second Friday of Jazz Fest at age 99 and 7/8 years young. This musician played at the first Jazz Fest in 1970 and has played all but two Jazz Fests during his career.
Mr. Ferbos was born July 17, 1911 and grew up in the downtown Creole section of New Orleans. A late comer to music in that city, he took up the trumpet at age 15 and has been blowing N'walins style Dance Hall Jazz ever since. He's known as "The Melody Man." In the early days of his career he played the vaudeville circuit and then toured with John Handy and Walter "Fats" Pichon. During the depression until World War II, Ferbos earned $13 a week playing for Roosevelt's Works Progress Administration Band (WPA). Mr. Ferbos is the last survivor of WPA. He played with the Mighty Four during the '40s and '50s. During the '60's he was in the Herbert Leary Orchestra. He joined Lars Edegran's New Orleans Ragtime Orchestra in 1970 and gave a stellar performance with them this year at Jazz Fest. With this band he performed in the 1978 movie "Pretty Baby" set in Storyville (the red light section of New Orleans) starring Brooke Shields. According to John Simerman (Times Picayune), he was recently given a $20 tip to play "Pretty Baby" at one of his weekly Palm Court Jazz Café gigs. Ferbos has had the weekly gig at Palm Court since 1991!
By the end of the '70s, Lionel Ferbos joined Vernel Bagner's hugely successful musical entitled "One Mo' Time" as the original trumpet player and featured singer. This is where one of my favorite clarinetist's, Dr. Michael White, first met and worked with Mr. Ferbos. Mike was just starting out at the time and Ferbos became a good friend and mentor. Mike wrote a beautiful article about Ferbos in this year's Jazz Fest program book stating "From the start, he represented the highest standards of professional musicianship and was always willing to give helpful advice to an inexperienced young musician. Some of his insights and shared experiences in music and life in general continue to inspire and enrich my life to this day. His keen sense of humor, gentlemanly manner and dapper dress style have made it easy for him to be instantly accepted and well-liked by everyone he meets."
Lionel Ferbos had another career as well. He followed in his dad's and grandfather's footsteps as a sheet-metal tradesman and owned his own shop until he lost it and his home to flooding from hurricane Katrina six years ago. Ferbos has had other burdens to bear since the storm. In 2006, he lost his only son, Lionel Jr., to cancer and three years later lost his dear wife of 75 years. Ferbos has had heart and circulatory problems as well but continues to practice every day. He says that if he doesn't practice daily, he will lose his lip so practicing is a must for him.
The Palm Court Jazz Band show at Jazz Fest was absolutely awesome from start to finish. Just prior to the first note, Henry Lacey and other directors of New Orleans Jazz & Heritage Festival and Foundation presented Ferbos with an award stating "we're honoring one of our real heroes." Ferbos soloed on numerous tunes proving practice keeps you sharp at any age. And my does he still have a fine voice - he sang "When You're Smiling" and the entire audience was smiling from ear to ear. He also did a fine job on vocals on "Bill Bailey" and "When I Grow Too Old to Dream" which is a favorite local song at Preservation Hall. When members of the audience at the Economy Hall tent get into a performance, many will show their appreciation by second lining which is parading and dancing in a congo line around the tent while twirling a festive parasol. Well, of course, there were hundreds of folks second lining and Mark Shearer (announcer for Economy Hall tent) later stated "Economy Hall - where second lining is not an option; it's a standard - second lining, the New Orleans weight loss program." What a fun time was had by all!
I later had the chance to ask Mr. Ferbos about his plans for his 100th Birthday and he said he hoped to see some friends and enjoy a nice piece of cake with his daughter Sylvia. Happy 100th Lionel Ferbos; I so look forward to seeing you next year!

OTHER 100 TRIBUTES
I adore the Phister Sisters and no, they aren't Phisters, nor are they sisters. They are Holley Bendsten, Debbie Davis and Yvette Voelker and they just thought the name "Pfister" was phunny. I'm sure you've heard of The Andrews Sisters who were popular during WWII with their "Boogie Woogie Bugle Boy of Company B." They took their style from the renowned Boswell Sisters of New Orleans who harmonized so beautifully during the '20s and '30s. The innovative Boswell gals created the close harmony jazz singing style. I believe they were also the first to provide a "horn section" using their vocals and hands to simulate horns. The Phister Sisters brilliantly demonstrated the Boswell vocal harmonies and "horns" when they performed "It Don't Mean a Thing if it Ain't Got that Swing." A member of the Bonerama group, who was on stage with the Phister's stated, "that's it Boswell fans, you've just been Bosed!" The Smithsonian institute CD set of Jazz has only one song with female vocals and it's the Boswell Sisters. For the past thirty some years I've enjoyed hearing New Orleans' Phister Sisters sing Andrews and Boswell tunes as well as other local hits worthy of great three-part harmony. Beth Boswell was born in October of 1911 so the Phister Sisters paid tribute to her and her sisters. As always, it was a fine show.
I also adore Dr. Michael White and New Orleans' own Soul Queen - Irma Thomas. Mike and Irma both had tribute shows to the late great gospel icon Mahalia Jackson. Also, Fantasia is the American Idol winner who performed at Jazz Fest for the first time this year; she is working on a movie where she will portray Mahalia Jackson and try to emulate Jackson's powerful contralto voice.
I missed Mike's tribute to Jackson but saw him at Louisiana Music Factory and received permission from him to record one of his new songs at another of his shows at Jazz Fest. Be sure to check out Dr. Michael White's latest recording for Basin Street Records titled Adventures in New Orleans Jazz, part 1; it's what I'm sending this year to out-of-town relatives for Christmas.
Grammy winner and Louisiana Music Hall of fame inductee Irma Thomas gave a most special tribute to Mahalia Jackson. Irma was backed up by Dwight Franklin's band and John Boutte (Treme) sang several numbers as a special guest. This was the fifth year in a row that Irma has given a tribute show to Mahalia Jackson and the third one I've had the pleasure of seeing. Irma always sings straight from her very soul and this tribute to Mahalia Jackson was no exception. In the middle of singing "Didn't it Rain", Irma suddenly lost it and broke down sobbing. Her daughters came on stage and helped her to a chair. After a few minutes, Irma came back to the mic and said "In March I laid my mother to rest and this is the first day I've been able to think about it." Irma is always such a professional and was able to pull herself together and finish her tribute like the trooper she is. I so enjoyed hearing her sing "Just a Closer Walk with Thee" which was one of Mahalia's favorites. I'd like to think that Irma's Mom's spirit was standing on one side of her and Mahalia's spirit on the other to help her give such a soulful performance. Oh my, so many special moments at Jazz Fest! Last pic is Irma Thomas paying tribute to Mahallia Jackson on her 100th birthday
«Go back to the previous page.