New Orleans Continuing Adventure
Posted On: 6/13/14
Written By: Tish Michel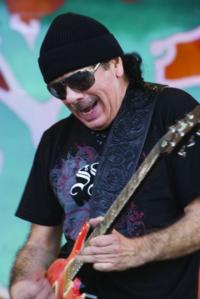 "Oh Santana - oh won't you play for me, Well ya come to Louisiana with a gee-tar on your knee." Carlos Santana saw, he came and oh so assuredly conquered Jazz Fest once again with his almost 200 minutes of non-stop sheer magnificent magical, mystical, and most memorable performance that closed out the main stage of Jazz Fest its opening day last April. The man is simply amazing and my hero. I do not attempt to catch many of the international acts that perform at the huge Acura stage at Jazz Fest because of the heat and crowd. However, I'll never miss a Santana show as he is one of my all-time favorite musicians who always delivers his best. I last saw him at Jazz Fest in 2008 standing right up front in a crowd of many thousands. I remember a delightful gal from New Jersey performed random acts of kindness by handing out fans to those of us near her to help with the heat. Santana was my favorite act in '08 and this year as well. At the age of ...
» Click here for the full story.
HAPPY 100th BIRTHDAY Lionel Ferbos
Posted On: 7/15/11
Written By: Tish Michel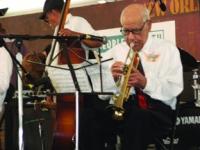 Jazz Fest always features a number of tributes each year to music icons on the hundredth anniversary year of their birth. However, I don't ever recall a tribute being given to a musician while he's still alive and actively pursuing his profession. Thatss right my friends, let me tell you about trumpeter and vocalist Lionel Ferbos who performed with the New Orleans Ragtime Orchestra the first Saturday of Jazz Fest, and the Palm Court Jazz Band the second Friday of Jazz Fest at age 99 and 7/8 years young. This musician played at the first Jazz Fest in 1970 and has played all but two Jazz Fests during his career. Mr. Ferbos was born July 17, 1911 and grew up in the downtown Creole section of New Orleans. A late comer to music in that city, he took up the trumpet at age 15 and has been blowing N'walins style Dance Hall Jazz ever since. He's known as "The Melody Man." In the early days of his career he playe...
» Click here for the full story.
KHRIS ROYAL – A SAX-CESS STORY
Posted On: 6/24/11
Written By: Tish Michel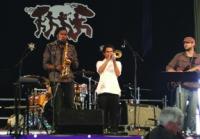 My son, David, got suspended for the first time in second grade the day before I attended my first CHADD national conference held in D.C. that year. CHADD stands for Children and Adults with Attention Deficit Disorder. David had been patiently waiting in the bus line to go home and was fidgeting with a pencil (kids with ADHD often have a fidget item to help curb their hyperactivity). According to other kids in line that day, a fourth grade bully had pushed David from behind three separate times before David turned around on the fourth push to push back. I think this took amazing restraint on David's part (for any kid's part for that matter) and where were the teachers when the bullying began? Because David had a pencil in his hand when he pushed back, the pencil was considered a weapon and David was the one who got suspended. Worse than that, my son said to me when we got home, "I'm sorry I'm such a bad boy. Mrs. Feeney (the Vice Princip...
» Click here for the full story.
View All Archives
|
Click to add RSS Feed