Festival founder George Wein and co-producer Quint Davis chatting before the press conference.
Dawn and Cashus Clay (my boss).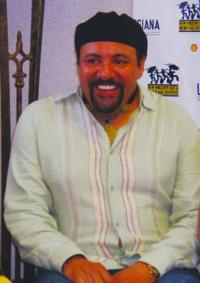 Terrance Simien won the first Grammy in the new category of Cajun/Zydeco music.
Oh yes, it's in the air and everyone in New Orleans is talking about it – "just 5 days till the fest"…"only four more days" … "three..two…one blastoff"! The greatest festival perhaps in the world celebrates its 40th anniversary. As Senator Mary Landrieu said to Jazzfest Producer Quint Davis, "yes, it's the 40th anniversary of Woodstock also but hey, they only did it once and you've been throwing this party every year and at this location for the last 38 years." Quint was just 22 years old when jazz pianist George Wein, who cofounded the Newport Jazz Festival in '54, Newport Folk Festival in '59, and infamous Monterrey and Woodstock festivals in the late '60s, began the New Orleans Jazz and Heritage Festival and hired Quint Davis and Allison Minor as co-producers. Take a look at George Wein and Quint Davis chatting just prior to a press conference the first weekend of Jazzfest.
When Jazzfest started in 1969, it was free. Then tickets went to $3. I started attending when tickets cost $15 a day and my x-hubby and I thought it was a lot of money but well worth it. Now tickets cost $50 and up a day and are still quite a bargain when you consider a ticket for a Nickelback show costs $80. The initial budget for the fest was around ten grand; now the budget is in the millions. The first Jazzfest posters were free; now they start at $69 and are quite the collectors' item.
So what is it about the New Orleans Jazz & Heritage Festival that makes it the best in the U S and sets it apart from all the other music festivals? I don't have words but anyone attending realizes the special feel of the fest. It's a special place to have fun with family and friends while indulging the senses with the best in food, music and crafts. I started attending the fest in the '80s and took an 18-year break to raise my son. After the storm (everyone in N'awlins refers to Katrina as "the storm"), I decided I had to return and help out.
Quint Davis says, "The festival started out to be the world's greatest backyard barbeque, an indigenous self-celebration by a culture…then at some phase it was to promote and celebrate the culture annually and bring it forward. Now, two or three generations later, it is a cultural institution." When discussing Jazzfest heading towards its fifth decade Quint states, "Think of how society has changes, culture has changed, the economy has changed, how music itself has changed. That says something about the eternality of roots music and New Orleans music and culture." Davis goes on to state the fest is still a "handmade festival – the food, the signs, the food booths, it's not slick. It's still charming. It's folksy, but underneath is one of the most complex infrastructures you can imagine. And it runs on time. We have hundreds of New Orleans bands starting and ending on time. Think about the miracle of that."
This is my fourth year as a Jazzfest volunteer – what a great experience! For several days prior to the festival I delivered posters and fliers to my favorite establishments in the French Quarter and worked at the Camp Street office answering phones and transferring calls to staff at the fairgrounds. Two staffer's names in particular intrigued me; they were David Foster and Cashus Clay. I met David Foster at the Camp Street office and he wasn't the famous songwriter responsible for aiding careers of Josh Grogan and Celine Dion, just to name a few.
I had the pleasure of working most Jazzfest days at the production office at the fairgrounds with Cashus Clay. Turns out that this delightful young man is in fact a relative of Mohamed Ali. Cashus was responsible for making sure the stages were set up with the right equipment placed in the correct location. This was a really fun assignment and Cashus took me under his wing to show me the behind the scenes workings of Jazzfest. I also have Cashus to thank for some way cool back stage passes.
This year I brought other volunteers from home with me. My long-time friend, Maryrose Whelley, joined me the first weekend and is planning on doing the same next year despite the fact that she had a stomach bug the entire time she was there. My twenty-one-year-old son, David Wright, came down for my last week at Jazzfest and he, too, is hooked and hopes to return to volunteer next year. Matter of fact, he's trying to see if he can save enough to go to the Voodoo Fest this fall.
I guess my only complaint about Jazzfest is that no matter how hard I try, I just can't catch all the great acts – it's impossible. In addition to the best food and craft vendors I've ever seen at a festival, there are eleven main music stages plus a kids' music tent. Want more you say – throughout the day you can see Mardi Gras Indians and brass band parades throughout the fairgrounds. Each stage has five or six acts per day between 11:15am and 7pm.
Let me start by telling you some of the headline acts on this year's lineup – Pete Seeger, Joe Cocker, Spoon, this year Grammy winner Terrance Simien, James Taylor, Wilco, Johnny Winter, John Mooney, Dave Matthews Band, Etta James, and Earth Wind & Fire, to name a few for the first weekend. The second weekend included The Meters, Anders Osborne, Ben Harper & Relentless7, Emmylou Harris, Marva Wright, Marcia Ball, Bonnie Raitt, Sugarland, Tony Bennett, John Scofield and the Piety Street Band, The Iguanas, Dr. John, Bon Jovi, Cowboy Mouth, Kings of Leon, The O'Jays, John Mayall, Allen Toussaint, Neil Young, The Neville Brothers, The Radiators, and Buddy Guy. I missed many of these musicians and lots more talented folks, but that's okay because every day of Jazzfest I saw and heard nonstop fabulous music.
Jazzfest is known for bringing folks the best of Cajun and Zydeco, Mardi Gras Indians, jazz, blues, swamp pop, Latin, rock and funk music. Jazzfest is an international event which includes an incredible variety of stellar options. There were many special tribute shows, especially to Jazz legends. At the Lieutenant Governor's, Mitch Landrieu, press conference I learned how he advocated to get the music industry to recognize Cajun and Zydeco music, and Terrance Simien received the first Grammy in this category at our most recent Grammy awards. Check out the picture of Terrance Simien as I say ta ta for this week. Next week I'll write more about my favorite acts.
«Go back to the previous page.