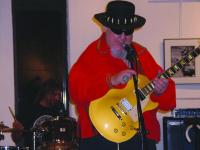 Bryan Lee at TUUC Friday Concert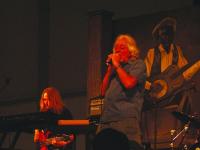 John Mayall wailing away on harp.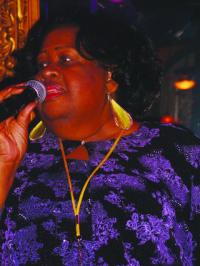 Marva Wright, Blues Queen of New Orleans
Do you recall me talking about my long-time friend Bryan Lee, The Braille Blues Daddy, several weeks ago? Katrina left its mark on so many musicians in New Orleans and released their creative juices as a means to deal with the pain caused by the storm and its continuing aftermath. Bryan released his first CD after the storm and titled it after the heart wrenching title track song "Katrina Was Her Name." Bryan said that song was recorded in only two takes. When I arrived in New Orleans for Jazzfest in '08, Bryan was leaving the next morning for a tour in Germany. We made plans to have dinner when he returned just before he was heading for the annual Blues Awards (formally the W.C. Handy Awards) in Memphis. Bryan was so excited that his album, Katrina Was Her Name, was nominated for album of the year.
Well, Bryan became deathly ill in Germany so we missed our dinner and he missed the Blues Awards. The organizers of the Blues Awards asked Bryan to attend as their special guest this year and asked him to dress in a manner that would represent NOLA (New Orleans, LA). Bryan's wife called me early one morning when I was working at Jazzfest. Beth is a school teacher and doesn't have time to shop in the French Quarter so she asked if I might know a place where I could pick up a couple ties for Bryan that looked fitting for a bluesman from N'awlins. I told Beth that I'd seen just the perfect ties at the French Market and would get my son, David, to purchase them before coming for his shift at Jazzfest later that day. David and I met Beth that night at Coco's on Bourbon Street where Bryan and his band were playing. They were delighted with the ties and I also lent Bryan two of my "Oscar" pins for his lapel.
Now "Oscar" pins are very distinctive and folks who have purchased "Oscar wear" in the French Market or at Jazzfest know and recognize his work all over the world. The routine for us "Oscar-ites" is to give a knowing smile and say, "like your Oscar wear– what year is it?" as Oscar C. Donahue, III has been selling his pins and earrings at the French Market since 1989 and signs and dates each item he creates. As a side note to this story, Oscar lost his Mom right after the storm. He and his dear Dad commuted from Georgia three days a week for eighteen months after Katrina so he wouldn't lose their spot in the French Market. Oscar's Dad was so thrilled to tell me that they had just finally returned home and were renting an apartment on Frenchman Street when I last saw Oscar Donahue Jr. two days before Jazzfest started in '07. He suffered a massive stroke later that morning and finally passed away this past winter. Yes, Katrina continues to take its toll. I told Oscar that his Dad was one of the dearest folks I'd met in all my years coming to New Orleans and how proud he was of his son as he so delightfully sold Oscar's artful gems that capture the magic of New Orleans. Oscar admitted how much he missed his parents and was dreading Father's Day. He said he planned a cruise with his girlfriend for after the Fest and over Father's Day and hoped to be quite numb that day.
Anyway – back to Bryan. I had dinner with Beth, Bryan and his band several weeks ago when they played a gig in Delaware. Beth returned my Oscar pins saying his outfit at the Blues Awards was quite a success. Bryan shared how wonderful it was to attend the awards and said his most favorite memory of the evening was when Koko Taylor came over, sat and had a long chat with him after giving her stellar performance at the awards and receiving "Best Traditional Blues Female Artist of the Year" award. This was Koko's 29th W. C. Handy and Blues Award and her final performance as she had surgery the following week and passed away two weeks later from internal bleeding.
Now, when blues first was recorded, there were many women in the field. Remember Mamie Smith (first ever Blues recording in 1920), Lizzie Miles, Ida Cox, Chippie Hill, Bessie Smith, Billie Holiday, Roberta Hunter, Lena Horn, Ma Rainie, and Ethel Waters to name a few. By the time Koko came along in the mid '60s the field was almost exclusively male dominated but she broke through with her Chess recording of "Wang Dang Doodle" and has remained as "Queen of the Blues" ever since, and opened doors for the ladies of the Blues we love today. I so remember seeing Koko perform at Jazzfest and Jimmies (a wonderful blues club on Willow Street outside of the French Quarter which is now gone) many times in the '80s and the Baltimore Blues Society has brought Koko Taylor to our area for numerous Blues events. She always sang straight from her heart and would take me to places my heart thought I would never go. Another thing I have in common with Koko is our mutual love of chocolate which is how Koko got her nick name as a small child (her real first name is Cora). Koko always said blues was her life and stated, "it's a true feeling that comes from the heart, not just something that comes out of my mouth. Blues is what I love, and singing the blues is what I always do." This multi Grammy winner also received the National Endowment for the Art's National Heritage Fellowship Award in 2004. Her great gift of music will surely be missed.
Do you remember when our own WOCM first broadcast from 49th Street Seacrets and had a noon hour show called "Deb's Diner"? I loved this blues program with its daily Blue Plate Special. Host Deb introduced me to Marva Wright – the "Blues Queen of New Orleans". When I visited New Orleans in December of '05, I asked Bryan Lee if he knew Marva and he said "sure, she's a good friend and she's playing across the street at Storyville (now gone)." At the time, Bryan's band was the house band at 222 Blues Club on Bourbon. I'd hop back and forth between the two clubs to hear Bryan and Marva. Now, Marva sounded even better live than she did on the recordings I'd heard Deb play on OCM. I was saddened to hear that Marva lost her home and some family and band members to Katrina. She has family in Maryland and relocated after the storm to Randallstown for more than a year. She has returned for Jazzfest each year since the storm and was able to return for good when her home was finally rebuilt.
One look at Marva and it was clear that the storm had a huge impact on her weight and health. Like Koko, Marva sings straight from the heart and I was delighted that she played at Coco's the nights Bryan Lee was off this year so we heard her a lot there as well as at the French Quarter Festival and Jazzfest. I guess Marvelous Marva was best known for her recordings of "Mama, He Treats Your daughter Mean" and "Built for Comfort". I received an e-mail a month ago that Marva suffered a stroke in June and fundraisers are being held on her behalf. I surely hope Marva is able to make a full recovery and return to perform soon! You may perhaps recall my article last year about Charmaine Neville and her recovery from a stroke after Katrina. The storm's aftermath continues its devastation.
Earl Palmer, the musician who put the funk in funky, also passed away this past year. Mr. Palmer is the most recorded drummer in history and set the legendary backbeat that forever defines Rock & Roll. He's on most all of the early recordings at J & M studio including all of Fats Domino's biggest hits, Little Richard's "Tutti Frutti", Lloyd Price's "Lawdy Miss Clawdy" and Smiley Lewis's "I Hear You Knockin' ".
Another drummer to pass away this year was Wilbert "Junkyard Dog" Arnold who played with Walter "Wolfman" Washington for as long as I can remember. "Junkyard Dog" was only 52. During Jazzfest last year we lost 56 year old Edgar Smith who played with many of the brass bands and had been with the Olympia Brass Band for over 20 years. Stacy Wesley Cole passed away last February at the age of 53. This trumpeter was a student of Alvin Batiste who died the morning he was to perform at Jazzfest in '07. Cole formed La Connection. We sure have lost too many talented musicians way before their time, in large part due to the aftermath of Katrina.
So as not to end this remembrance series on a negative note, let me mention some of the legends who are doing well. I've recently read Eric Clapton's autobiography and would like to tell you about two of his blues heroes that performed at Jazzfest this year. John Mayall gave an awesome show closing the day the second Saturday of Jazzfest this year shortly after Bryan Lee's amazing show in the Blues tent. John Mayall helped to give Clapton his start before Clapton formed Cream. This British blues icon singer, songwriter, multi instrumentalist with snow white hair gave a high energy performance as he wailed away on his guitars and effortlessly played piano and sang with soul.
Buddy Guy is Clapton's favorite Bluesman and a favorite of Bryan Lee's as well. Bryan has asked Buddy to sing and play one song on Bryan's CD coming out sometime this fall. Buddy Guy is originally from Louisiana and has five Grammys to his credit. Buddy won Best Contemporary Male Artist and his latest CD, Skin Deep, won Best CD of the Year at the Blues Awards in May. I missed his show which closed the Blues Tent at Jazzfest this year to catch my favorite closing act at Jazzfest – the Neville Brothers.
I also missed 86 year old Doc Watson's performance at the Blues tent because his show was the same time as Charmaine Neville's performance and I'd never miss the chance to see Charmaine. Folksinger/songwriter Doc Watson has won seven Grammy's and a host of other awards for his flashy cross-pickin' bluegrass style; I sure hope I'll have the opportunity to see him another time.
I had a press conference organized by the Lt. Governor when Pete Seeger gave his show. However, I was able to later attend the tail end of Pete Seeger's interview session and was delighted to hear this 90 year old folk legend play and sing a bit. When asked about his key to good health and a good life, Pete credited much of this to his wife of 66 years and chopping wood. The Seeger's live in a log cabin he built as a young man and they heat their home with the wood he still splits. Seeger claims, "it's no wonder baseball and golf are so popular all around the world, it's fun to go whack, and I love whacking wood!" Pete won yet another Grammy this year for Best Traditional Folk Album for his most recent CD titled At 89. Pete Seeger has been a leader in the folk movement all his life and states that as long as he has breath and unfairness continues in the world, he will continue telling his stories about peace, love, the environment and endangered species through song.
«Go back to the previous page.