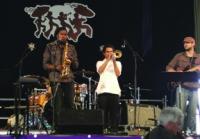 Khris Royal and his band Dark Matter performing at the Blues Tent at Jazz Fest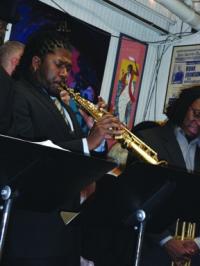 Khris performing at Louisiana Music Factory.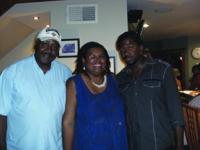 Khris and his parents at their after fest party - Khris is thinking "Hurry Tish - I've got to get to my next gig."
My son, David, got suspended for the first time in second grade the day before I attended my first CHADD national conference held in D.C. that year. CHADD stands for Children and Adults with Attention Deficit Disorder. David had been patiently waiting in the bus line to go home and was fidgeting with a pencil (kids with ADHD often have a fidget item to help curb their hyperactivity). According to other kids in line that day, a fourth grade bully had pushed David from behind three separate times before David turned around on the fourth push to push back. I think this took amazing restraint on David's part (for any kid's part for that matter) and where were the teachers when the bullying began? Because David had a pencil in his hand when he pushed back, the pencil was considered a weapon and David was the one who got suspended. Worse than that, my son said to me when we got home, "I'm sorry I'm such a bad boy. Mrs. Feeney (the Vice Principal) is right, Mom, I shouldn't be allowed to go to school." This so broke my heart and I wanted to cancel going to the conference the next morning, but another CHADD Mom came over to console me after David went to bed that night and she said, "You need to go to that conference more than ever now."
In New Orleans, Karran Royal was facing similar difficulties with her son Khris who was also in second grade at the time. At my first CHADD conference I met so many wonderful parents from all across the country and from many other countries as well. The best session I attended that year was given by a Harvard professor named Russell Barkley. I felt as if he was speaking directly to me when he said I must become an "Executive Parent" to my child and strive to successfully coordinate my son's care from pediatricians, psychologists, psychiatrists, neurologists, speech pathologists, teachers, guidance counselors and other school administrators, coaches and numerous other professionals.
Karran and I both left successful careers to become "Executive Parents" for our high maintenance/whirly bird sons. We led our local CHADD Chapters and later served together on the national CHADD board of directors. Karran and I shared our stories with many other CHADD leaders across the country on a list serve which was most helpful at that time. I first met Khris Royal when he was 14 or 15 and attended the national CHADD conference (held in Chicago that year) with his Mom. Khris played Sax as a solo performer at the CHADD VIP party and simply wowed us all with his immense talent. He also served on a teen panel called "Ask the Real Experts" attended by parents and leading experts from all fields. I thought Khris was the most real of the teens as he shared his views about his ADHD, meds and their impact on his music, education and family life. When I got back home, I planned a teen panel including my son for a local chapter meeting. Both panels were most memorable!
Dr. Robert Brooks lectures around the world urging parents and teachers to help kids find their "island of competency". Karran and her husband helped Khris find his island of competence – music! They helped Khris follow his passion by enrolling him at the Jazz and Heritage Foundation's Don Jamison Heritage School of Music and later Khris attended the New Orleans Center for the Creative Arts (NOCCA). Khris was taught by none other than the late Alvin Batiste (affectionately known as Mr. Bat) and many other famous New Orleans musicians and educators.
NOCCA was founded in '73 and is perhaps the best music high school in the nation. Its graduates include Ellis Marsalis's Grammy winning sons Branford, Wynton, Delfeayo and Jason. Grammy winner Harry Connick Jr., Irvin Mayfield (Grammy for One Book) and Terrence Blanchard (Grammy for Katrina inspired A tale of God's Will) are also musicians at the top of their game in this contemporary Jazz era who graduated from NOCCA.
Kris Royal is part of the new generation of NOCCA graduates and his schoolmates include Troy "Trombone Shorty" Andrews, Jonathan Batiste (piano), Christian Scott (trumpet), Gregory Agid (clarinet), Sam Williams (Trumpet – leader of Big Sam's Funky Nation) and Steve Masakowski's (guitarist for Astral Project) beautiful daughter, Sasha Maskowski (vocals and musical theatre). I'm listening to Sasha Masakowski's newly released Wishes as I write – great CD! Watch out for these youngins as they take the lessons they learned at NOCCA and college to form the new rich sounds of New Orleans.
More often than not, Khris would stay in the practice room at NOCCA until 8 p.m. practicing and it surely paid off. At age 16, Khris received a full scholarship to the prestigious Berklee College of Music. After Berklee, Khris spent time in LA working as a session musician with The Game, Bobby Brown, Nelly, Ashanti and Mary J. Blige. During this time, Karran Royal and her husband and younger son lived in a FEMA trailer as they struggled to get their life and home back in order after Katrina. However, New Orleans is where Khris's heart was so he soon returned home and has found success and full acceptance from the greatest musical community in the world.
I caught Khris and The Khris Royal Trio last year playing at Irvin Mayfield's beautiful new club in the French Quarter. He told me about his new band called Dark Matter, but I didn't get to hear them in '10 because all the gigs were late night. This year I was so surprised to run into Khris at the Louisiana Music Factory just before Delfeayo Marsalis' Uptown Orchestra took the stage. Khris greeted me with a big hug and admitted he was a little nervous about this performance of Marsalis' arrangement of Duke Ellington's 12-part suite based on Shakespeare's works. I must say that Khris sounded just fine and when he soloed, Delfeayo sported a huge grin. After the show I asked Khris if he had any shows that started before 10pm. He told me he had 20 some gigs in the next 10 days and the only early ones were at Jazz Fest.
Khris first played Jazz Fest at the age of 7 with his school band and has played every Jazz Fest since except for a year when he couldn't break away from his studies at Berklee. That's 17 Jazz Fests, my friends, quite an accomplishment for a 23-year old!
I next saw Khris at Jazz Fest '11 that first weekend playing with George Porter's Runnin' Pardners band. Khris often tours with George Porter who is one of the most respected bass players around and is mostly known for his years playing with Snooks Eaglin and Earl King. This performance was mostly N'walins funk with some blues and rock 'n roll added to the mix. Khris did an amazing job on his sax and oh so cool electronic sax synthesizer; I also enjoyed seeing Khris and George Porter's daughter, Katrina, sing back up. It was a great show!
Now the highlight of Jazz Fest for me this year was sitting with Khris's family in the Blues tent the second Saturday of Jazz Fest and seeing Khris lead his own band, Dark Matter. Khris and his band mates played with conservatory intelligence and youthful high octane energy as they unleashed their unique brand of progressive jazz/electronic funk music. Most of the explosive set was made up of Khris Royal original material. I so enjoyed "Kendrick's World" dedicated to brother, Kendrick Royal, who is a young teen whose passion is video games and he wants to design video games when he grows up. I must say Kendrick was thrilled to have his big brother play his song at Jazz Fest. Khris's synthesizer made me feel as if I were living inside a video game. My other favorite of Khris's originals was "Big Booty Express" which was simply a superbly fun dance song with a great beat that made me want to stand up and move my big booty. This was also his Mom's favorite song.
At the end of the day I went with Karran back to her home for a fabulous after-fest pig-out party. Karran was so well organized; she put us to work with clear instructions and in less than half an hour she had everything out with all the hot things hot and the cold things just right. The feast was amazing and I so enjoyed being with the Royal's and their friends. Of course Khris and his band had to leave around nine thirty to get to their gig at the Blue Nile on Frenchman street that night. Look for Khris's debut album coming out soon; I'm sure it will knock your sox off! If you get to New Orleans, Khris's band has a regular Wednesday night gig at the Blue Nile so go hear him live if he isn't touring.
Khris Royal is one of our kids who just happens to have ADHD. With lots of hard work on his part, loving dedicated parents and caring teachers and medical professionals, Khris has, as we say in the ADHD community, grown up good! CHADD has lots of great success stories, but I believe this may be our first sax-cess story.
«Go back to the previous page.